We got some venison this year from wonderfully generous friends and I have been looking up neat, cool, frugal fun recipes on homesteading sites I visit frequently. Someone suggested making Jalapeno Poppers. This is right up the boys and my alley. And I couldn't wait to try them!
I only made a few since it was a new recipe. I wanted to make sure (if it worked out) I would have enough ingredients left on hand for appetizers on Christmas Day 🙂
The photos were taken by my lovely assistant Brian (I told him he was my new Blogger Photographer).
This is a pretty frugal recipe. I got the bacon for 99 cents (of course I buy it on sale for about 99 cents a package and then freeze it),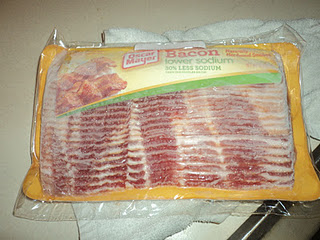 the jalapenos were 80 cents for 15,
the cheese was on sale for 2.50 (Sad that I think 2.50 is a good sale price. I remember when it was like 1.25 on sale. Cheese making is next on my list of things to learn to do),
and the venison was gifted. I'm using venison butterfly steaks. We packed it, food-savered and then froze.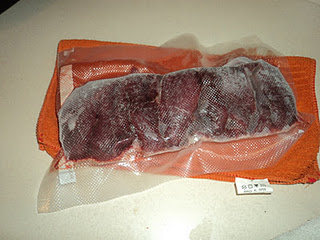 How to make Venison Poppers: Printable
Cut 5 jalapeno peppers in half lengthwise and seed. See I am wearing a glove? I managed to slice my index finger this morning using a new razor, no way I wasn't wearing a glove.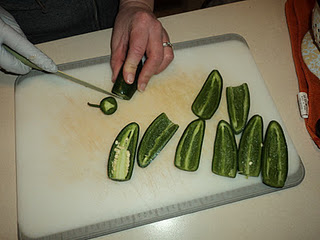 Cut 10 quarter-inch slices of venison, long enough to fit into the peppers.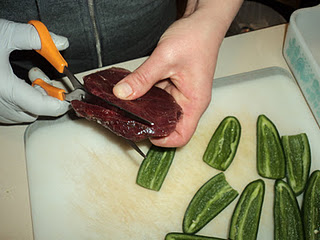 Cut 10 quarter-inch wedges of sharp cheddar cheese. Extra Sharp cheese, mmmmm, my favorite! Cheese should be SHARP unless it is Brie, of course.
Cut 5 slices of bacon in half.
In each half of jalapeno put a slice of venison. Love this picture. I think it is so pretty with the venison soooo red and lean.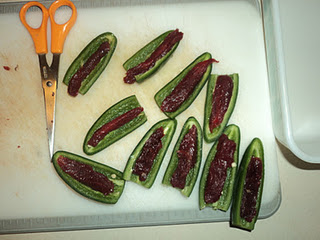 Then the cheese. Brian does a pretty good job of picture taking mid-point dontcha think?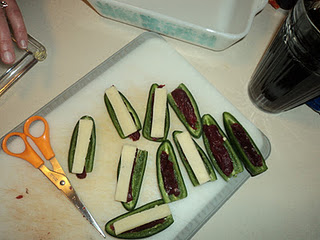 Wrap everything up in a half slice of bacon. Secure with a toothpick.


Bake at 350 degrees for approximately 20 minutes, then broil until bacon is crisp.
Keep an eye on them when you broil them, they will burn!


Enjoy!
They lasted all of about 4 minutes in my house–and that was with Brian and Max eating them hot out of the oven!


Amanda blogs at Becker Style.

Do you have a recipe post or kitchen-related story to share on the Farm Bell blog?
See Farm Bell Blog Submissions for information, the latest blog contributor giveaway, and to submit a post.

Want to subscribe to the Farm Bell blog? Go here.
What can you enter to win this month? Click here.