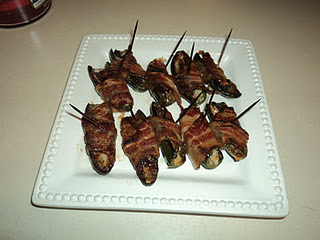 Difficulty: Easy
Servings: 4
Prep Time:
15 min
Cook Time:
20 min
Ingredients
5 jalapenos, cut in half lengthwise and seeded
5 slices of bacon, cut in half
10 quarter inch wedges of sharp cheddar cheese
10 quarter inch slices of venison
Directions
In each half of jalapeno, put a slice of venison, then cheese. Then wrap in a half of a slice of bacon. Secure with a toothpick.
Bake at 350 degrees for approximately 20 minutes, then broil until bacon is crisp. Keep an eye on them when you broil them, they will burn!
Categories: Appetizers & Snacks
Submitted by: becka034 on January 6, 2012