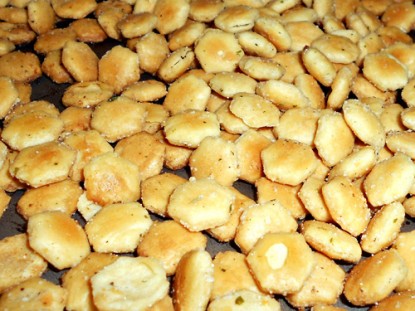 Difficulty: Easy
Prep Time:
5 min
Cook Time:
15-20 end
Ingredients
2 bags plain oyster crackers
1 pkg. Ranch mix original
1 tsp. Mrs. Dash
3/4 tsp. garlic salt
1 c. olive oil
Directions
Combine 1 package (or 2 tablespoons) Ranch mix with 1 cup olive oil. Add 1 teaspoon Mrs. Dash and 3/4 teaspoon garlic salt.
Pour over 2 bags plain oyster crackers and mix together until everything is coated.
Spread into a cookie sheet with sides.
Bake in a 250F oven for 15-20 minutes.
Categories: Appetizers & Snacks
Submitted by: cindyp on January 7, 2012