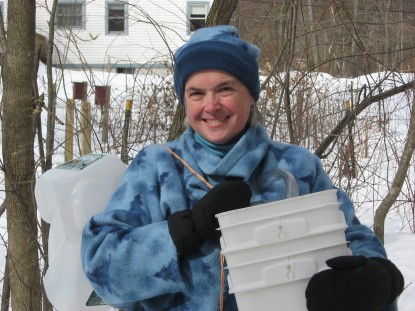 Here in New England, March is called Mud Season, but it is also Sugarin' Season. Although commercial operations require a significant investment of time and money, making maple syrup for your own use is simple and relatively inexpensive. We began with a $90 investment and average between 2.5 and 3 gallons per year. You could get by with spending even less money and have an even higher yield, depending on your time availability, scavenging skills, ambition and desire. All you need are maple trees, a few simple pieces of equipment, wood to burn, and time.
You can make maple syrup from any kind of maple tree, Sugar, Red or Silver. The trees must be at least 10 inches in diameter and preferably get at least a half day of sunlight on them to get the sap running.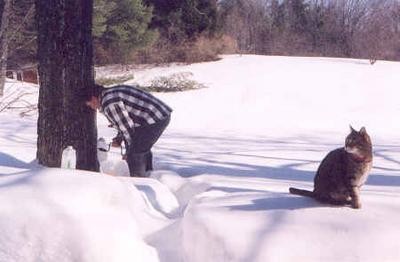 Guard cat is optional but is a nice addition!
Once you have decided which trees, you drill them with a special bit and insert the taps.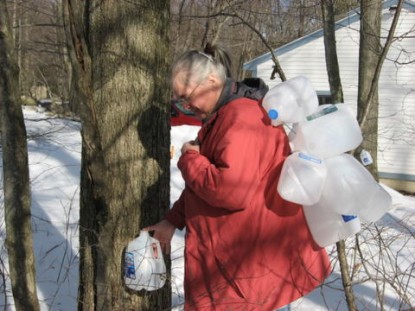 There are lots of options for collecting your sap but we use one-gallon water jugs as we get them free, they have a top, and it is good recycling.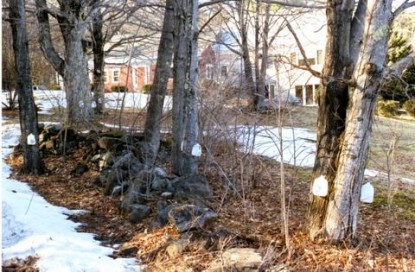 Our "Sugarbush"
We have a very primitive homemade evaporator, just a box made of fire bricks, open at one end and at the top, two blocks high, about 2 by 3 feet wide, with a galvanized steel stove pipe on the back to divert the smoke. . This size was determined by the size of the grate we scavenged from our barn. On top of the grate are two stainless steel restaurant pans, 4 inches deep, the kind you see in cafeteria steam lines, but you can use any container that will withstand the prolonged heat and is preferably more wide than it is deep.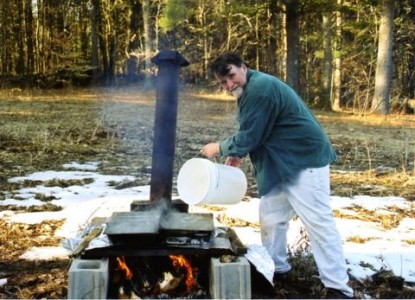 You need to work outside as you need about 32-40 gallons of sap to make one gallon of syrup and if you try to boil it in your house, you would end up steaming off your wallpaper or have the worst mold problem you have ever seen. Just start your fire, pour the sap into the pans, and let it boil away. It will take several hours and you will need to pay attention, but we have found that with two of us taking turns monitoring works well.
As the water boils off, the sap will turn darker and thicker, but not very thick. Using a thermometer at this point is a good idea. A candy or fat thermometer works best. You need something that goes to at least 220 degrees F. I use a digital candy thermometer, which works wonderfully, but a regular one works just fine. As your sap reaches around 200 degrees, you can move everything inside to finish it up. We find it is easier and more comfortable to control the last steps inside on the stove.
At this point we start to filter. We find that coffee filters work for us. Put the sap in a big stock pot and continue boiling. Keep the thermometer in the sap and keep an eye on it. You want to boil until it has reached 218 degrees F. The final step is to filter it one more time, pour into sterilized jars, and process in a hot water bath for 15 minutes.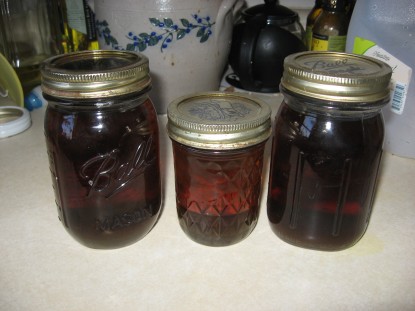 If this sounds like a lot of work…well, it is, on the days that you actually do the boiling. But it is only a short season and here in rural New England, there isn't a lot else to do in March. We only boil on weekends and in three weekends we put up anywhere between 2 and 4 gallons of syrup, which is more than enough for our own use through the year plus great Christmas gifts. Happy Sugaring and make up some pancakes! Oh… and include your cats, they love to help.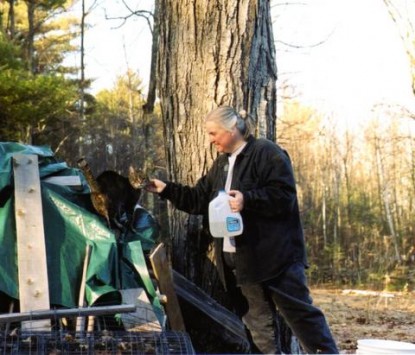 Do you have a recipe post or kitchen-related story to share on the Farm Bell blog?
Go here to read information and submit a post to the Farm Bell blog.

Want to subscribe to the Farm Bell blog? Go here.