Just this week I needed an easy, wonderful tasting dessert for a get together with friends. I also wanted to use some extra eggs up–as the chickens haven't slowed down production this winter. I scanned my recipes and found a flour-less chocolate cake that fit the bill. It's super rich, super easy, and uses 6 eggs!
To dress it up for the festive holidays, I decided to add a white chocolate "frosting" with crushed candy canes on top. The taste is like a decadent, better-than-you-can-imagine peppermint bark that's dense, rich and creamy.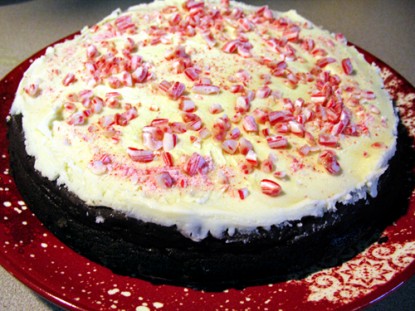 How to make Chocolate Cake with a Peppermint Twist:
1 cup water
3/4 cup sugar
9 Tablespoons butter (1 stick plus 1 Tablespoon extra)
18 oz bittersweet chocolate (I used half semi-sweet chocolate chips with half extra dark chocolate chips)
6 eggs
Topping:
2-3 mini candy canes
8 oz white chocolate chips
1 Tablespoon butter
Preheat oven to 350.
Butter a 10″ spring-form pan, line the bottom with parchment and wrap the outside of pan with 3 layers of foil (to cover the bottom and up the sides). Place spring-form pan inside a larger roasting pan and fill with hot water (to rise about half way up the sides of the spring-form pan).
Add water and sugar to saucepan and bring to a boil, stirring to dissolve sugar. Simmer for 5 minutes.
In second saucepan, add butter and chocolate. Stir until smooth. Add eggs, one at a time, mixing them in well.
Pour mixture into spring-form pan and place in oven. Bake for about 50 minutes, or until center is set when gently jiggled.
Cool on wire rack before placing in refrigerator. (Cake tastes best if you have time to refrigerate it overnight).
Topping: Break up candy canes (I used my Vitamix, but you can also use a hammer!) and place in bowl. Melt white chocolate with butter and spread over top of cooled cake. Sprinkle candy pieces on top.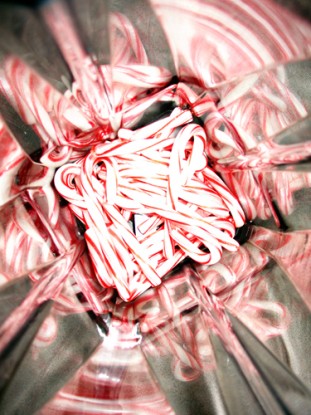 Besides the taste, which is out of this world, the next best thing is that your friends and family will think you spent hours in the kitchen to create this dessert! That right there is a win/win in my books. (Plus, you'll also get to lick the bowls when you're done!)
Enjoy!
P.S. We just ate the cake last night and it was wonderful…however, in my enthusiasm to cover the cake with a thick layer of white chocolate, I didn't take into consideration that it would be HARD to cut through that thick layer. In the future, I think I will reduce the white chocolate on the top layer to 1/2 cup instead of a whole cup. This will still give the same great flavor, but be easier to cut through and therefore easier to eat.
(However, even with the thick upper layer, the cake was a hit last night and people wanted the recipe!)
Get the handy print page and save this to your recipe box here:
Chocolate Peppermint-Twist Cake

You can find Kerrie at City Girl Farming.


Do you have a recipe post or kitchen-related story to share on the Farm Bell blog?
Read information here for Farm Bell blog submissions.

Want to subscribe to the Farm Bell blog? Go here.