This isn't a successful cooking post for me. It's a successful "get my niece to make things from scratch" post. The niece who I figured out the Mocha Frappacino recipe for. And the niece who loves Stacy's Pita Chips.
We've been working together cooking new-to-her dishes. She's always made a mean microwaved frozen dinner, but she's expanding her horizons! She actually made enchiladas–from scratch!–for me for dinner the other night. I was around and answered questions, but that was it. Many of you may think my niece is in her teens. No, she is in her mid-twenties. I cannot believe my brother, the one who likes to cook and try new things, did not teach her to cook. She survives, but out of the un-healthy and expensive sections of a grocery store. I've taken her under my wing.
But this post is her very own. From finding a recipe (and making do with what she had) to serving snacks to her friends and not wandering down the snack aisle of the grocery store. It's a simple snack to many, but to her it was a big accomplishment. She's even caught onto taking pictures of everything you cook–it might be on the blog someday!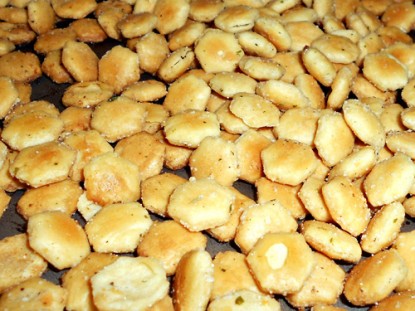 How to make Ranch Oyster Crackers: Printable
Simple and inexpensive ingredients makes for an easy and inexpensive snack. Total cost for 20 ounces of snack crackers was about $2…compared to $6 for the same amount of chips.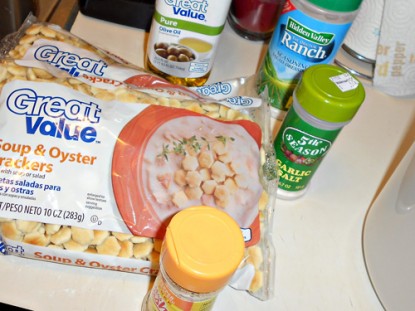 Combine 1 package (or 2 tablespoons) Ranch mix with 1 cup olive oil. Add 1 teaspoon Mrs. Dash and 3/4 teaspoon garlic salt. Lemon pepper, dill weed and garlic powder was originally called for. She substituted for what she had on hand. They loved the seasoning combination.


Pour over 2 bags plain oyster crackers and mix together until everything is coated.
Spread into a cookie sheet with sides.
Bake in a 250F oven for 15-20 minutes.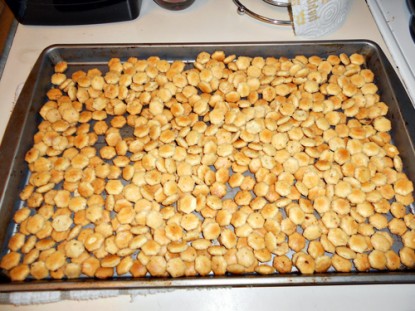 I'm so proud!


Cindy blogs at Our Life Simplified.

Do you have a recipe post or kitchen-related story to share on the Farm Bell blog?
See Farm Bell Blog Submissions for information, the latest blog contributor giveaway, and to submit a post.

Want to subscribe to the Farm Bell blog? Go here.
What can you enter to win this month? Click here.