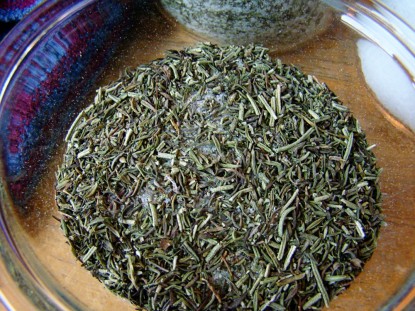 I love this herb mix. Whenever we bake a chicken, we cover it in this stuff. We also put a couple of spoons full into our chicken stock. Yum!
It's quick. It's easy. It doesn't call for exotic ingredients.
I've given you two recipes–one for a single use on chicken or in soup and one that's a bulk recipe. Keep the bulk recipe in a tightly sealed container and use when you want to add a special spice to anything.
How to make Chicken Rub: Printable
Single recipe:
1 Tablespoon dried crushed rosemary
1 Tablespoon dried thyme leaves
1/2 Tablespoon [1 1/2 tsp] salt
Bulk recipe:
4 oz dried thyme leaves
4 oz dried crushed rosemary
1 cup salt
Stir it all up and use it on chicken [or turkey!] or in soup.

Yes, you can make these without the salt. Don't worry if the proportions aren't exactly right. Everything will still taste good.
To put it on a chicken, pour the herb mix in your hand and rub it all over the chicken. You can try to sprinkle it, but it doesn't stick all that well unless you get up close and personal.

No doubt, many of you have your own concoctions for chicken. Tell us about them! What herbs do you like to put on your chicken?


Robin from Rurification blogs at Rurification.

Do you have a recipe post or kitchen-related story to share on the Farm Bell blog?
See Farm Bell Blog Submissions for information, the latest blog contributor giveaway, and to submit a post.

Want to subscribe to the Farm Bell blog? Go here.
What can you enter to win this month? Click here.