Almost 1300 recipes have been uploaded to Farm Bell Recipes by our wonderful members and my recipe box is overflowing! Some days I just flit around clicking on member names to see what they've uploaded recently, 'cuz sometimes it's just hard to keep up and I miss recipes as they come in!
The other day I noticed rileysmom's golden pup in her profile pic. I clicked on the pic to enlarge it (it doesn't enlarge). I landed in her recipes so I scanned through them. This wonderful sounding brownie recipe jumped out at me — Quick Fudge Brownies.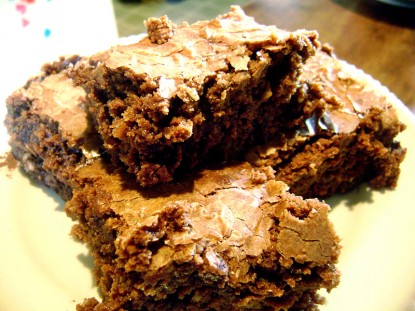 Oh my! They are quick! They are easy! They are fudgy! This is a wonderful brownie – without flour and oil.
How to make Quick & Fudgy Brownies:
Ingredients:
1 1/2 cups (10 oz) semi-sweet chocolate chips
1 1/2 cups graham cracker crumbs
1 (14 oz) can sweetened condensed milk
1 slightly beaten egg
1 teaspoon vanilla
1/2 cup chopped walnuts or pecans
Directions:
Melt 1 cup of the chocolate chips. I did this in the microwave using 50% power 1 minute at a time, stirring after every minute, for 3 minutes. Watch closely, your microwave may be different!
Stir in graham cracker crumbs, sweetened condensed milk, egg, and vanilla.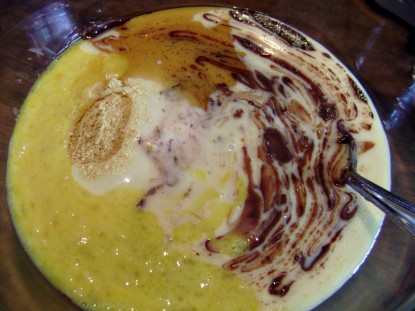 Mix well.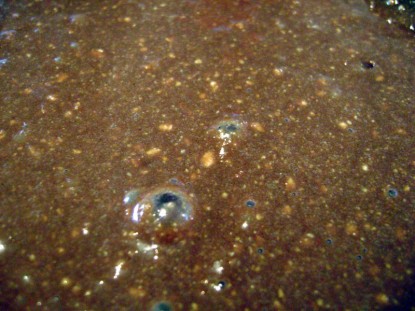 Stir in remaining chocolate chips and nuts.
Grease and flour a 9×9 baking pan. I only have an 8×8 casserole dish which worked just as well. I sprayed the dish then dusted with baking cocoa (like rileysmom suggested).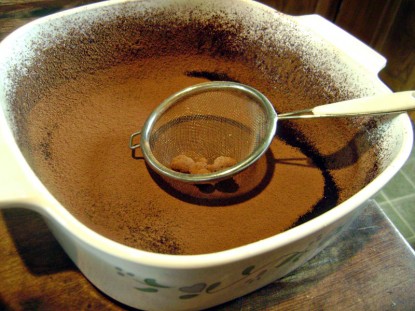 Spread mixture into pan and bake in a 350 oven for about 35 minutes.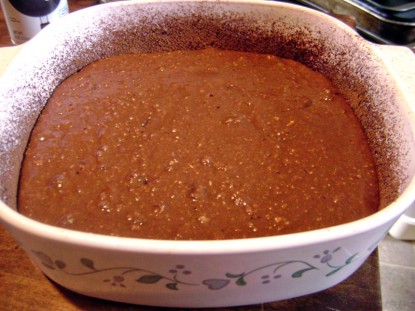 Cool on wire rack; cut into squares.
Or cut a piece of brownie while still hot and top with icecream! It's OK!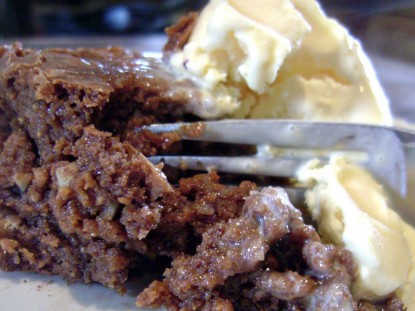 I was very amazed with this recipe. It was as quick as a box mix – it took 1 hour and 15 minutes from the time I started melting the chocolate chips to the time they were cool enough to cut (picture taking included) – with minimal ingredients. With no oil or flour, they still have the normal brownie texture and tests done just like any other brownie. The sides are pulled away from the pan and there's cracks throughout the top.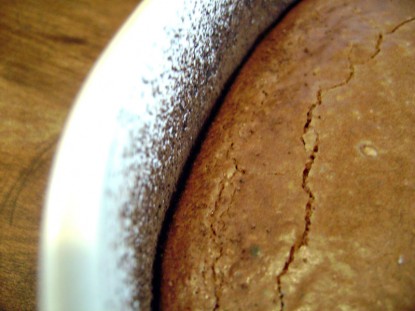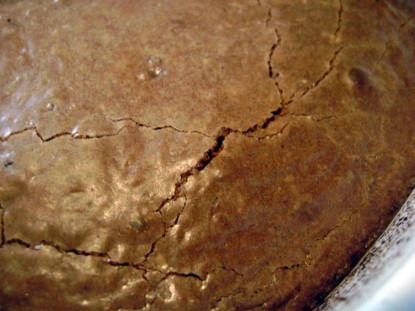 I used milk chocolate chips in this recipe (that's what I had) so the brownies did end up a lighter color. You could use your favorite chocolate in this recipe easily – just use 10 ounces chunked up.
Get the handy print page and save this to your recipe box here:
Quick Fudge Brownies. Thank you, rileysmom! 🙂

Cindy blogs at Chippewa Creek ~ Our Life Simplified.

Interested in contributing a guest post to the Farm Bell blog? Read information here for Farm Bell blog submissions.

Want to subscribe to the Farm Bell blog? Go here.