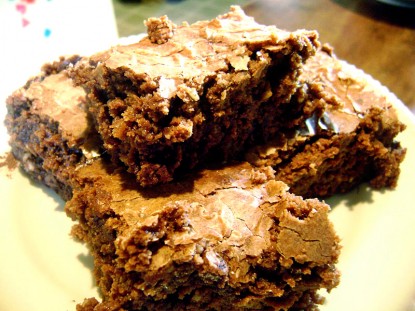 Difficulty: Easy
Servings: Makes 36
Prep Time:
15 minutes
Cook Time:
35 minutes
Ingredients
1 ½ cups semi-sweet chocolate chips
1 ½ cups graham cracker crumbs
1 (14 oz) can sweetened condensed milk
1 slightly beaten egg
1 teaspoon vanilla
½ cups chopped walnuts or pecans
Directions
Melt 1 cup of the chocolate chips; stir in graham cracker crumbs, sweetened condensed milk, egg, and vanilla. Mix well. Stir in remaining chocolate chips and nuts.
Spread mixture in a well-greased and floured (can flour with baking cocoa) 9X9 baking pan. Bake in a 350 oven for about 35 minutes. Cool on wire rack; cut into squares.
Categories: Brownies, Desserts, Kid-Friendly
Submitted by: rilleysmom on June 5, 2010