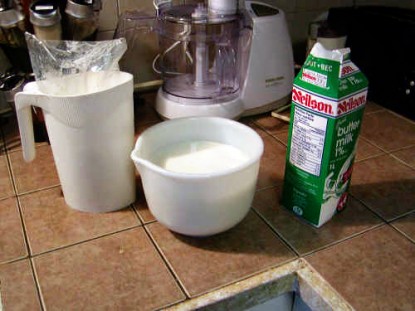 Hubby loves buttermilk but buttermilk is expensive, unless you can find it on sale. With this in mind, I have been looking into making our own. I came across a reference to homemade cultured buttermilk by accident about a month ago and that started the chain of research on the subject. Why should culturing buttermilk be difficult. I have been making yogurt for decades. Can this milk culture be any more difficult?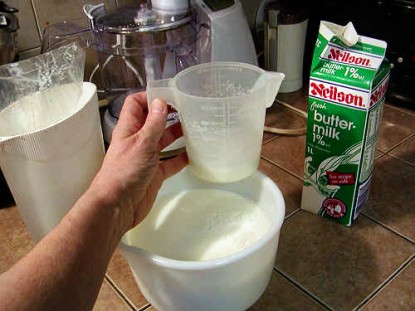 It isn't – it's easier! The culture that makes "cultured" buttermilk will grow at room temperature! That makes it a lot easier to make than yogurt. No warming the milk and keeping it at that warmer temp for eight hours. This is not real buttermilk. Real buttermilk is what farmers pour off the butter after churning. This is, however, what most people drink from the grocery store, called "cultured" buttermilk. It is a mesophilic culture growing in milk. This is the same culture used to make many cheeses. I bought a small container of cultured buttermilk at the store. It is important to buy one with live culture. Only a small portion of this is needed to turn a bowl of milk into cultured buttermilk. The process takes about 24 hours at room temperature. I used store bought 2% milk and let a bowl of it warm to room temperature. I then added about a 2″ square amount of buttermilk and left it for 24 hours.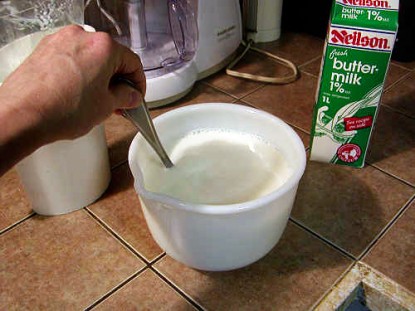 Ta-da! Buttermilk! Thick and delicious! You can freeze the buttermilk in small pieces, like in an ice cube tray, to use for baking. I have tried using the frozen cultured buttermilk as starter for more buttermilk and it has never worked for me, though others say it works. You won't want to drink it after freezing, either. I don't have ice cube trays, so I put a piece of plastic wrap across the top of a tiny muffin pan and poured buttermilk into each one. I set this in the freezer. When they were hard I put them all in a freezer bag and put back in the freezer. Now I can take out as much as I need for a recipe.
Because we turn our heat down at night, our kitchen is a lot colder than "room temperature". For this reason I left it an extra half day. The next time I make it, I will put it in the yogurt maker so the temperature will stay constant. My yogurt maker is a gallon tub in a styrofoam container made for it.

Sheryl blogs at Providence Acres.

Interested in contributing a guest post to the Farm Bell blog? Read information here for Farm Bell blog submissions.

Want to subscribe to the Farm Bell blog? Go here.