My husband adores hot dogs. A-D-O-R-E-S. He is meticulous in how he prepares them, too. He's not one for a soft hot dog bun, as I am. He lays a piece of bread on a plate, slices a couple of grilled hot dogs in half and lays them on the bread, then slathers it with chili, onions, sweet relish, mustard, and whatever else he deems essential for a trip to hot dog Mecca.
Unfortunately, his doctor told him that due to his health, he should avoid things with preservatives in it, and should no longer eat any processed meats. This includes all lunchmeats, sausages, and…his beloved hot dogs and hot links.
WHAAAAAAT????
Oh man…talk about a sad Tow Man. I've seen him gazing longingly at the hot dog/sausage area in the grocery store, and I've seen the sadness on his face as he watches people carry their hot dogs away from the high school football concession stand.
It's enough to make a grown woman cry.
After doing a little research, I decided that there was no reason why I couldn't just make my own hot dogs. After all, people make sausages, so what would be the big deal about making a hot dog? I think I must have looked at every recipe for hot dogs that is known to man and is circulating on the internet. I read books, talked to a couple of butchers, and generally did a lot of legwork.
The big debate I ran into was whether or not to use the pink curing salt in the hot dogs. There is a study out that has linked the sodium nitrate in the pink curing salt with certain cancers. The University of Hawaii showed results that say if you eat foods that are processed with curing salts you are 67% more likely to develop pancreatic cancer. Food companies and purists say that there are not enough nitrates in the salt to hurt you, but I decided to err on the side of caution and not use the pink curing salt. This just means that the wieners will only last a few days in the fridge, or will need to be frozen to stay fresh. That's fine by me. They also won't have that pink color that the ones in the grocery store do, but again, I'm fine with that. I'd rather keep my family healthy than serve aesthetically pleasing pink hot dogs.
Since all great experiments need to be documented, I asked my oldest daughter, Kerrie, to come over and be the photographer. She was pretty skeptical about whether these hot dogs would taste good, but she agreed anyway. She's a sucker for guilt and let me tell you, I laid it on thick.
When I went to buy the casings at our local Farm/Ranch store, I bought the package that had the most for the least amount of money. I paid $12.49 for enough casings to do 20 pounds of meat. I figured that if I really liked this, it would be good to have the extra.
I got the fake casings instead of the natural, and there turned out to be no instructions on the package, so I had to use my old friend, Google, to find out what to do with them. Google found the manufacturer's site, which said to place a section in warm water for at least an hour before you're ready to start.
While the casings were soaking, I mixed all my spices, egg whites, and milk with the minced garlic and onion in my small food processor. My three youngest kids (23, 19, and 17) were all in the kitchen by now and pretty equally fascinated and grossed out by what they were seeing.
I ground the meat and fat as per the instructions on the recipe (thoroughly splattering my white shirt in the process),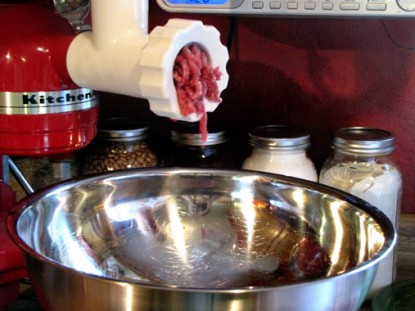 then poured the spice/garlic/onion mixture on top and began mixing it with my hands.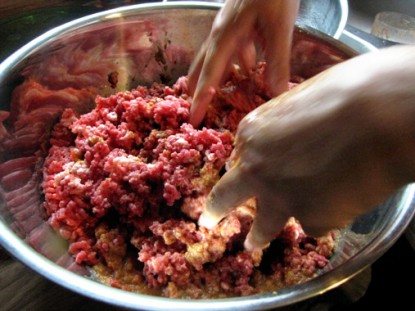 As the smell began wafting up, Kerrie and I both looked at each other in amazement, because it smelled just like a hot dog. We instantly began the high fives and happy dance, because we knew we were good! Success was smelling pretty doggone sweet.
After it chilled for 30 minutes, we began putting it through the sausage attachment of my KA. Getting the casings on was a chore, as this was my first time. As the sausage began forming we realized that we were a in a little (biggest understatement of the year) bit over our heads with this operation. It took 3 of us to corral the sausage and twist it into links, laughing hysterically the entire time.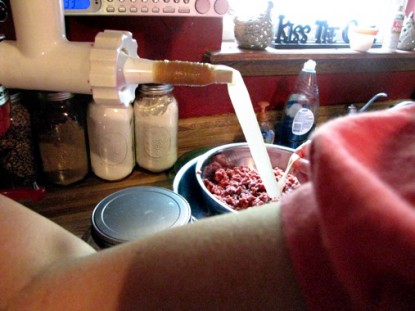 The casings I bought were junk. They failed in every way possible. I ended up making wieners with half the meat mixture, then put the rest in the freezer to save for another day when I can go back and get some hog or sheep casings.
It took us over an hour to successfully make one hot dog. Kerrie proudly put it in to parboil by itself.
We did eventually get a few links made.
Parboiling them was another issue altogether, though. Evidently I am not capable of twisting the links so that they will stay in link fashion. Immediately after placing them in the water they began to untwist and made one long weird looking, um…thing, for lack of a better word. At this point in time our confidence totally deflated. We were ready to chalk the whole thing up as a failure.
After parboiling them, we decided to try one. They definitely were not very pretty.
The flavor was great, although it tasted more like a breakfast sausage than a hot dog. The texture reminded me of meat loaf, also, which I'm not sure would be that great on a bun. If I ever get the nerve up to do this again, I will definitely use both beef and pork. I think it would really help the texture issue. Eric, who is one of our drivers, pulled up to the house about the time we were finishing up, so we made him our guinea pig and forced some down his throat. His consensus was that with a little bit of ketchup they'd be pretty awesome. Our bruised egos inflated back up a little.
All in all I'd say it was a pretty interesting, albeit extremely messy experiment. We worked on them for three hours, and it cost me about $35 for the batch, along with the catastrophic damage done to my clean kitchen. Would I do it again? Probably not. Once is enough for this chick. I think that from now on I'll buy my preservative-free hot dogs at the health food store. It might have been just a wee bit too much of an adventure for me, although, the fun we had together as a family sure does count for a lot.
If you're up for a good adventure, try the recipe I've submitted. I can guarantee it will be an experience you will never forget! Get the handy print page and save this to your recipe box here:
Homemade Hot Dogs.

Tow Lady blogs at The Tow Lady.

Interested in contributing a guest post to the Farm Bell blog? Read information here for Farm Bell blog submissions.

Want to subscribe to the Farm Bell blog? Go here.
Editor's Note: As well as today being Tow Lady's first contribution to Farm Bell Recipes, it's her birthday! Happy Birthday, Tow Lady!