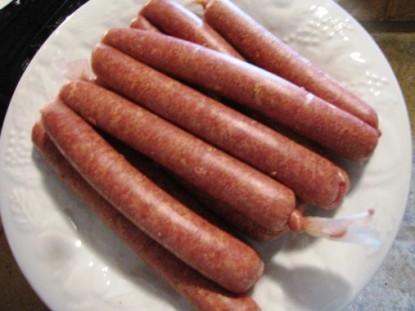 Difficulty: Intermediate
Servings: 12-16, depending on your casing size
Prep Time:
1 hour
Cook Time:
20 minutes
Ingredients
3 feet sheep or small (1-1/2-inch diameter) hog casings
1 pound lean pork, cubed
3/4 pound lean beef, cubed
1/4 pound pork fat, cubed
1/4 cup very finely minced onion
1 small clove garlic, finely chopped
1 teaspoon finely ground coriander
1/4 teaspoon dried marjoram
1/4 teaspoon ground mace
1/2 teaspoon ground mustard seed
1 teaspoon sweet paprika
1 teaspoon freshly fine ground white pepper
1 egg white
1-1/2 teaspoons sugar
1 teaspoon salt, or to taste
1/4 cup milk
Directions
Prepare the casings as per directions on package. In a blender or food processor, make a puree of the onion, garlic, coriander, marjoram, mace, mustard seed, and paprika. Add the pepper, egg white, sugar, salt, and milk and mix thoroughly.
Grind the pork, beef, and fat cubes through the fine blade separately. Mix together and grind again. Mix the seasonings into the meat mixture with your hands. This tends to be a sticky procedure, so wet your hands with cold water first.
Chill the mixture for half an hour then put the mixture thorough the fine blade of the grinder once more. Stuff the casings and twist them off into six-inch links. Parboil the links (without separating them) in gently simmering water for 20 minutes. Place the franks in a bowl of ice water and chill thoroughly. Remove, pat dry, and refrigerate. Because they are precooked, they can be refrigerated for up to a week or they can be frozen.
Categories: Low-Sodium, Other Main Dish, Other Special Diets, Sandwiches
Submitted by: cnbash on September 18, 2010