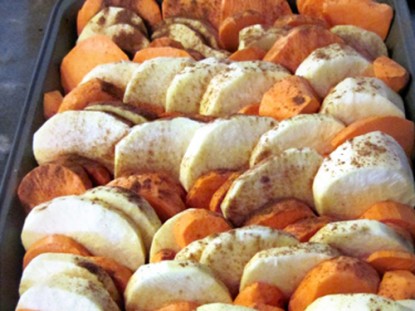 "The trouble with piloncillos", or possibly, "The trouble with not being prepared and substituting a staple with something you really don't know how to use properly." Say, piloncillo-what?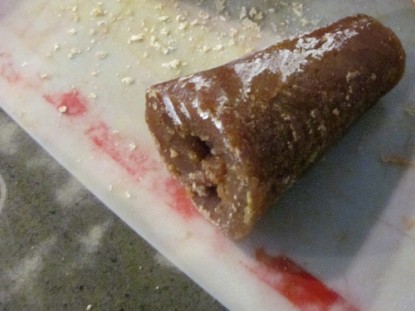 Piloncillos are a type of cane sugar, sold in Mexican food stores, among other places. They are cheap, keep forever, have a mellow molasses-y flavor, and I have no idea how to use them.
Sure, there is a little pile of them in my cupboard, but let's be honest…I am not sure how or what they are really used for. I've looked it up and all, but, well, I need some honest-to-goodness Mexican grandmother to give me a little schoolin'. Probably in more ways than one.
Just before Thanksgiving, sweet potatoes and yams went on sale 4 pounds for $1. Time to stock up!
For my "sweet" Thanksgiving side, I peeled and sliced a bunch of each, and alternated rows of slices.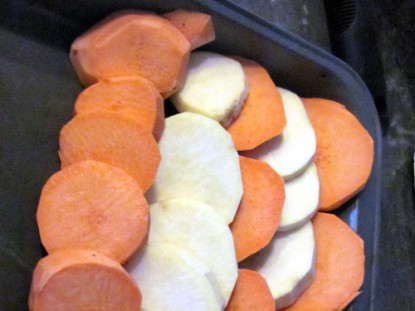 No gourmet inspiration here. I got this idea from the ending of Disney's Ratatouille. I watch a lot of kid's movies.
Here is my sous-chef Chatterbox, helping out.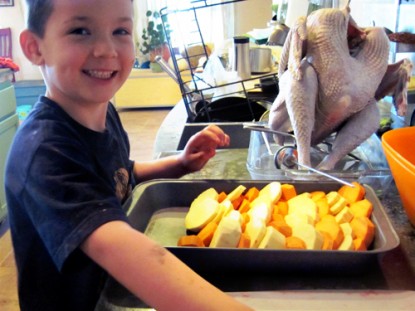 Ignore the naked bird. The ManBeef was in process of charring a turkey.
Next, I sprinkled the yams with cinnamon, a bit of salt, and some pumpkin spice. Then I realized I was completely out of brown sugar and white sugar and confectioner's sugar AND SPLENDA.
Jeeze, just what was I baking all weekend?
So then I saw the piloncillos, and thought, "I'll just sprinkle some of this in there. PERFECT, the yams won't be overly sweet."
Riiiiight. I am so naive.
Just how does one "sprinkle" a piloncillo?
We could try to grate it!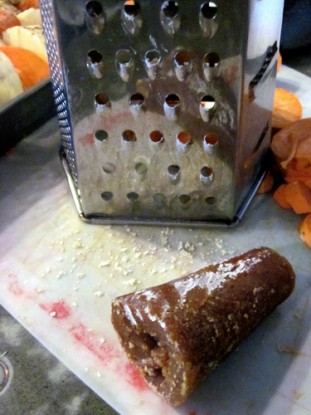 Fail.
Two minutes of grating, and that is all I was able to grate off.
Ok….well, the piloncillo is just like brown sugar that has gotten too hard, right? Let's nuke it for 30 seconds!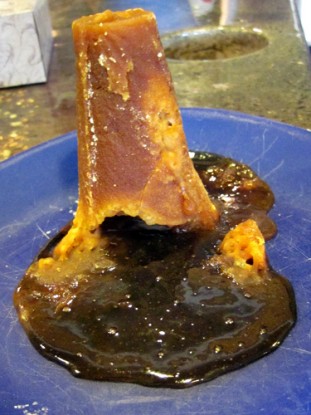 Uh. Nope.
The melted portion hardened before I could get a chisel out of the drawer. It was like hardened volcanic magma.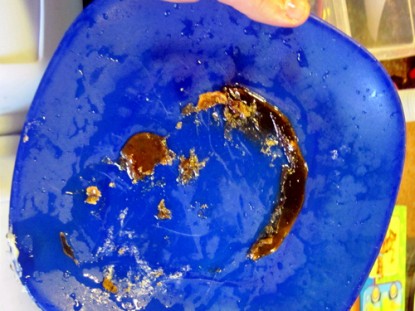 All-righty then. Thwarted once again.
Now I am a little cheesed off. Maybe I should have done my research.
* Boiling the piloncillo in a bit of water? No. It seems impervious to liquids.
* Bashing it with a hammer? No. Dented the hammer. Chipped the concrete countertop.
* Cutting it with a knife? Never attempted. I like my fingers, thank you very much.
* Staring at it with my best "Mom" look? It wasn't intimidated. The piloncillo LAUGHED at me.
I was on the verge of giving up when we decided on a multi-faceted approach. Well, Chatterbox did. He said, "Mommy, why don't you do all of those and mash it up all at once?"
Uh, ok?
We nuked it in a bowl of water, quickly removed the cone from the microwave, chopped it into large chunks, bashed those up, and then plopped the smaller chunks into the pan with the sweet potatoes and yams. I poured the bowl of water in the pan too. It had all the grace and sophistication of a night at the ballet.
Truly.
Finally, we covered the pan with foil and baked the entire dish at 375 for ~ 45 minutes.
It. was. fabulous. [drool]
There are no pictures of the dish finished, because it came out of the oven and on to the buffet table. Someone scooped before I could take a picture, but the yam's natural sweetness combined with the cinnamon and absorbed mellow sweetness of the piloncillo.
I highly recommend it. But first — let me find out just HOW one is supposed to use a pilioncillo, ok?

Larissa blogs at The Henway.


Do you have a Christmas recipe post or kitchen-related story to share on the Farm Bell Recipes blog? Read information here for Farm Bell blog submissions.

Want to subscribe to the Farm Bell blog? Go here.