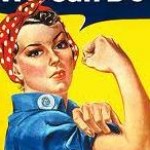 Say HELLO to Tow Lady!
Q. What are your favorite things to cook?
Oh my — I have to have a favorite? I guess you could say my favorites are "comfort foods". For me, that could include whatever I've got a hankering for at that moment. To me it's not about the specific food type, it's more about the love of cooking, whatever form that might be. Sadly enough, I've been known to take great pride in a perfectly prepared bag of microwave popcorn.
Q. How/when did you learn to cook?
I am a cookbook freak. I looooove cookbooks even though I very rarely use them, and have since I was little. I used to spend hours looking at all the recipes and pictures, so when I was 12 or so, my mom started me out by teaching me how to make my Daddy's favorite dessert, Pineapple Pie. After that, I was hooked and began cooking wherever and whenever I could. Most of my cooking skills are self-taught through trial and error. Boy, has there ever been a lot of error in my cooking!!! I just wish I liked to clean up as much as I like to cook!!!
Q. Tell us about some of your cooking triumphs.
11 years ago we opened a diner up in our small town. Although we no longer have it, I still have people stop me at the gas station or at the school and tell me how much they miss my cooking. Those are definitely some of my "warm fuzzy" moments. Currently, I'm the most pleased with creating most things from scratch. Due to health issues, we're eliminating preservatives from our diet. This has taken me back to a "from scratch" cooking style, which I absolutely love. The satisfaction of knowing that you've put the most healthy options out there for your family is a great feeling. Hearing your 18 year old-bottomless pit-football player-son tell his friends how great of a cook his mom is — well, that's pretty doggone priceless.
Q. What was your most memorable cooking tragedy?
Thanksgiving time, 1993. We had several people over for dinner who had no local family, and my father-in-law, who drove a truck, happened to be there, too. I pulled the dressing out of the oven and sat it on a hot pad in the middle of all the other wonderful food on the table. I guess the Pyrex was faulty, because as soon as I turned my back the dish exploded, sending shards of glass into everything I'd prepared, except for the turkey which was on the counter waiting to be carved. Needless to say, we had turkey sandwiches for dinner. I still cringe when I think about it.
Q. Describe your kitchen. Do you love it, hate it, and why?
I'm not a big fan of my kitchen. When we moved to our little town, the housing supply was non-existent. We moved the 6 of us into the first tiny house we could find, and are still here. It was half the size of the house we moved out of. My kitchen is a small and L shaped, with very little cabinet space or room to work. I dream of one day getting to renovate my kitchen or move to a bigger house. My husband shudders at the thought!
Q. Is your pantry organized and are your kitchen drawers tidy? We need to know.
Oh man, I knew this question was coming. I have one pantry that is organized — it's the one with all my small appliances and canning supplies in it. As for my drawers? I prefer to think of them as "social", because everything mingles together. As for my cabinets? I'm still looking for that jar of beets from 1998. Just kidding — maybe.
Q. Do you have any favorite family cooking traditions?
I love cooking with my kids. They're mostly grown now, but it's still one of my favorite things to do. Anything cooked with my oldest son is going to be hot and spicy, or improvised. My oldest daughter and I can together, and I drool while I watch her make desserts. Our conversations we have while cooking are some of my favorite. My youngest daughter makes a killer meatloaf and great desserts, and we laugh uncontrollably through the whole process. My youngest son likes to experiment, so we just pull out whatever's in the cabinets and fridge and make it all work together. They've all been cooking since they were young. We used to have "Kids Cook Night" every so often when they were younger, where they would prepare the menu, shop for what they needed if it wasn't in the cabinets, then prepare the meal and clean up afterward. I'm not sure who got more out of that — them, or me.
Q. What is the one gadget (or ten) you couldn't do without in your kitchen?
My KitchenAid mixer and all it's gadgets, dehydrator, food processor, and my Crock Pot. I couldn't live without my Crock Pot, I burn them out regularly because I use them so much. I think this may be the 10th one that I've had since Tow Man and I got hitched 20 years ago. I'm also hopelessly in love with my gorgeous red silicone whisk. Shh…don't tell…Tow Man would get jealous.
Q. If you had to take one food to a deserted island, what would it be?
My 18 year old son told me to take McDonald's cheeseburgers because they don't spoil and still look the same after 10 years. I think I'll pass, though. I guess if I had to nail it down, I would probably take cookies. Snickerdoodles…mmmm. Who needs civilization when you can eat cookies??? Or, puffed cheese balls…you know, the ones you can get at Wal-Mart in the huge barrel-looking tubs??? Sigh, they go against every healthy rule out there, but I'm still an addict. If I was completely honest, I'd tell you that I just ate a bunch of them for breakfast and that my computer keyboard now has suspicious orange fingerprints on it. However, I'm not feeling particularly honest today.
Q. What is your go-to comfort food?
Cheesy Rice. Hands down favorite at my house. Rice, cheese, cream of chicken soup, sour cream, more cheese, Rotel, a little broth to make it creamy, and more cheese. Oh man, now I'm hungry!!!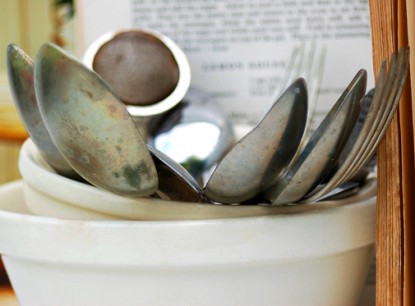 Find all of Tow Lady's recipes here.

Tow Lady blogs at The Tow Lady.

Interested in contributing a guest post to the Farm Bell blog? Read information here for Farm Bell blog submissions.

Want to subscribe to the Farm Bell blog? Go here.