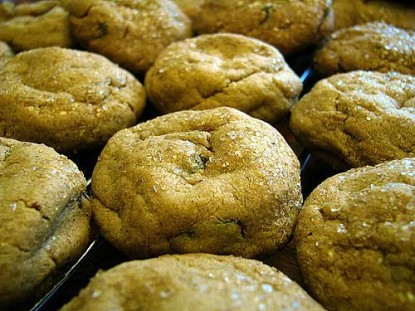 Difficulty: Easy
Servings: 3 dozen
Prep Time:
15 minutes
Cook Time:
10 minutes
Ingredients
3/4 cup butter, softened
1 cup sugar
2 teaspoons ginger
1 teaspoon baking soda
3/4 teaspoon cinnamon
1/2 teaspoon ground cloves
1 egg
1/4 cup molasses
2 1/4 cups all-purpose flour
1/2 cup raisins (optional)
1/4 cup  turbinado sugar
Directions
Preheat oven to 350-degrees. In a large bowl, beat butter with an electric mixer for 30 seconds. Add the cup of sugar, ginger, baking soda, cinnamon, and cloves.
Beat until well-combined. Add egg and molasses; beat again. Beat in as much of the flour as you can, then stir in remaining flour and the raisins, if using, with a heavy spoon. Shape dough into 1 1/2-inch balls. Roll in turbinado sugar. (Can substitute regular sugar.)
Place balls on a very lightly greased cookie sheet two inches apart. Bake at 350-degrees for 10 minutes and no more. Do not overbake! Let stand a couple minutes before using a spatula to slide off the baking sheet onto a wire rack to cool.
Categories: Cookies & Bars, Desserts
Submitted by: suzanne-mcminn on December 10, 2010