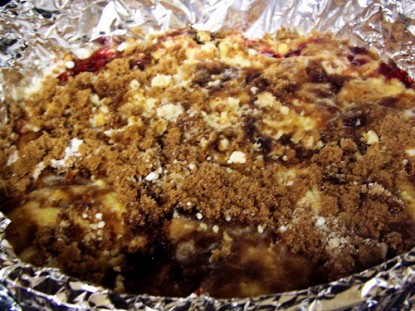 Okay, everyone get out your bibs, your spoons, and the ice cream–we're doing Dutch-Oven Cherry Cobbler! (No drooling, please.)
How to make Dutch-Oven Cobbler:
The ingredients you'll need are two cans of fruit pie filling–this one is cherry, but you can use any fruit filling that you like. You can add more cans of the pie filling if you want a bigger or thicker cobbler. Then you need one cake mix, any flavor, but I usually use white or yellow cake mix. Also, a stick of butter, and some brown sugar.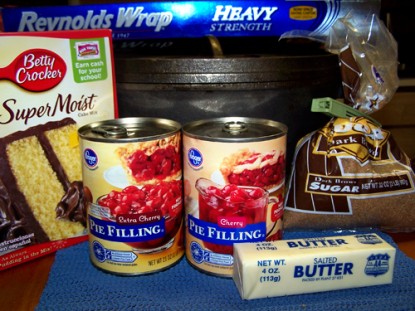 First off, you need your dutch oven. If you don't have a dutch oven, just use a baking/casserole dish. Maybe you could do it in a 9×9 or 9×13 pan, depending on how thick you want it.
The dutch oven I've got is a little big for making this cobbler for two people, so it's going to be a little on the thin side. Use something smaller than I did, if possible.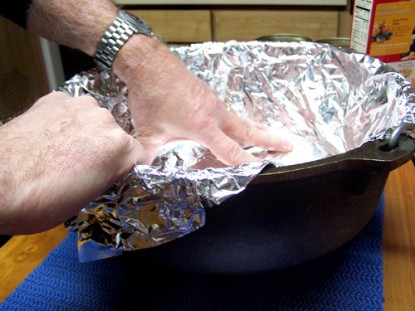 Take some heavy-duty aluminum foil and line the dutch oven (we do that so the acid from the fruit does not react or pit our cast iron or take away the cure on it). Makes clean up easier, too. But if you are using a baking pan, you don't need to use the foil lining.
Open up the cans of pie filling and dump them in.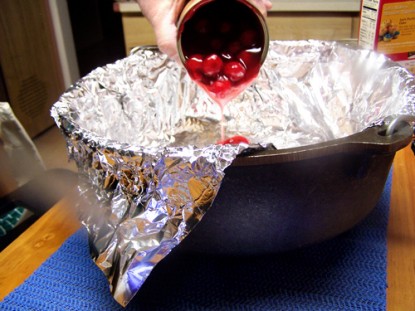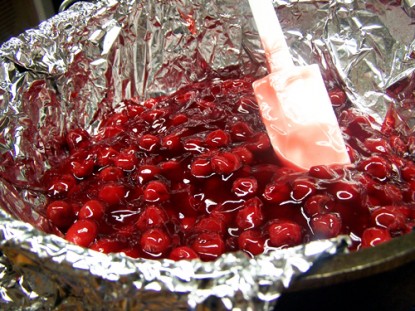 Then open the box of cake mix and dump the whole box on top and spread it around. It doesn't have to be perfect, just dump it in and spread it out.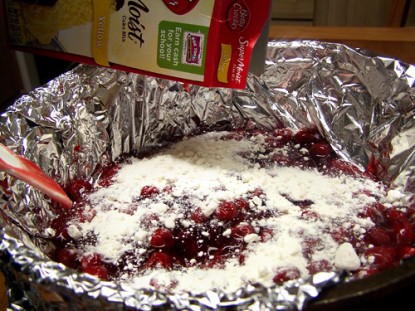 Use 1/2 cup to a cup of brown sugar, and just spread or sprinkle on top of the cake mix.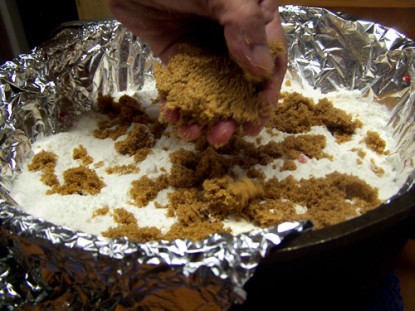 Take the stick of butter and cut it into chunks–as many or as few as you want. It'll melt around. Put the chunks on top as evenly as you can.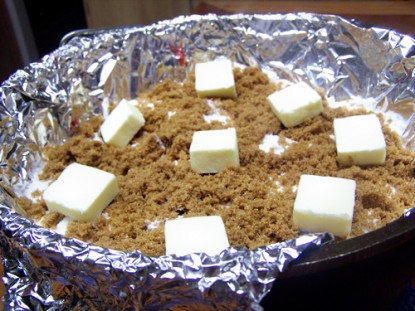 Put the lid on and it's ready to go into the oven. (No lid needed if you're using a baking dish.)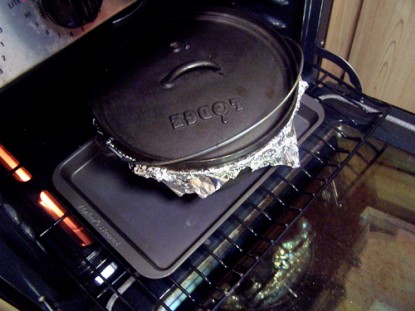 Stick it in the preheated oven (350 degrees) and let it bake until the butter melts and turns the top golden brown. The time depends on what pan you use and your altitude. We put a baking sheet under ours to catch any drips.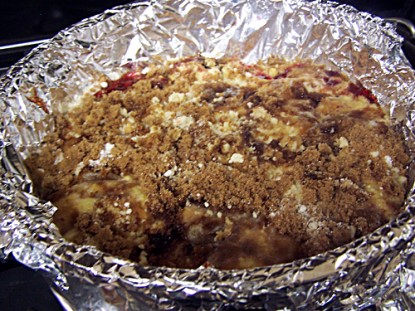 If you are out camping, this is a great dessert after a long day tromping through the woods. First time I made it, there were three of us guys on a hunting trip. We put it all in the dutch oven, placed it in our fire-pit, and covered it up with coals on top and surrounding the bottom. Then we just walked away. After about 45 minutes we could smell the cobbler, and since we had finished dinner we decided it was time for dessert.
We pulled it out of the fire, blew the coals off the top so we didn't get any in the cobbler, and proceeded to dish up three big bowls of blueberry cobbler. After finishing a bowl each, we just looked at each other and smiled, threw our bowls on the ground, and took our spoons and the three of us stood around the dutch oven– we were chow hounds–and stood there and fed our faces, talking and laughing and having a real good time. We were all eating fast 'cause we were afraid somebody would get more than the other, so it got a little messy. Before we knew it, we had finished off that whole dutch oven cobbler in one setting.
We were full, not miserable, but definitely full. We talked for more than two hours about how good that cobbler was. Then we wished we'd saved some for the next day. See if you can save some for the next day!
There is a lot of tasty combination potential. Try blueberry instead of cherry. How about apple pie filling with spice cake mix? Strawberry or raspberry filling with chocolate? Try 'em all.
So, cook it up, eat it up, and enjoy. Feed your face with delicious cobbler!


Get the handy print page and save this to your recipe box here:
Dutch-Oven Cobbler.

Jim blogs at Granddad's Corner.

Do you have a recipe post or kitchen-related story to share on the Farm Bell blog?
Read information here for Farm Bell blog submissions.

Want to subscribe to the Farm Bell blog? Go here.