You know Dasher and Dancer
And Prancer and Vixen,
Comet and Cupid
And Donner and Blitzen.
But do you recall
The most famous reindeer of all?
…
Rudolph! Cookies!
This is a simple, quick, totally easy and cute cookies idea that are a hit with kids.
Reindeer cookies originally came from an article in the Taste of Home magazine.
How to make Reindeer Cookies:
1 batch Peanut Butter Cookie Dough formed into a roll — or you can cheat and buy rolls of Pillsbury Peanut Butter Cookie Dough from your grocers dairy section
1 bag mini pretzels
Chocolate chips
Cinnamon Imperial candies
Cut the peanut butter cookies dough into slices and place on an ungreased cookie sheet. Gently squeeze each slice in a bit so they are kind of shaped like a fat figure eight. Place a mini pretzel at the top of the head part, on each side, to form the antlers. Then place two chocolate chips on the top section for eyes and one cinnamon Imperial candy on the bottom section for Rudolph's nose.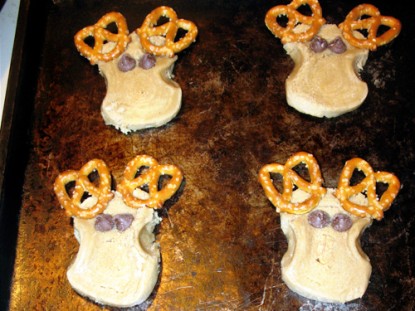 Bake according to the directions for the cookies, usually 350F for 9-11 minutes, but it may differ according to your oven.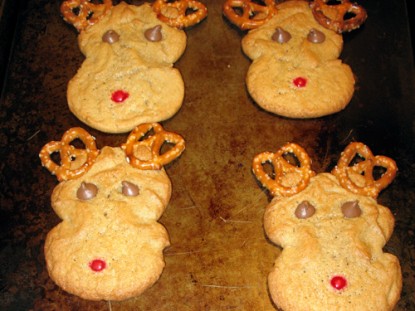 WaaLaa — there you go!!! So easy, so cute and pretty darn tasty, too!!!
Get the handy print page and save this to your recipe box here:
Reindeer Cookies
Suzanne's Peanut Butter Cookie Recipe.

Laura blogs at The Blue Zoo.


Do you have a Christmas recipe post or kitchen-related story to share on the Farm Bell Recipes blog? Read information here for Farm Bell blog submissions.

Want to subscribe to the Farm Bell blog? Go here.