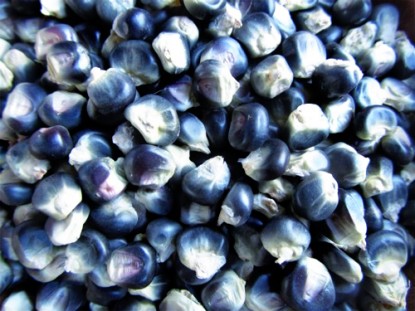 This year I am growing 'Six Nations Blue, Long Eared Variant'! It's a blue corn! And also called Hopi maize. Blue corn is not really a new thing, it's a very old heirloom grown by the Hopi and Aztec natives for hundreds of years.
Isn't it amazing how the old things are coming back and they're better than the new generation foods?!
Heirloom organic blue corn has 20% more protein, 8% less starch, less sugar with a lower glycemic index, and has more lysine, zinc and iron than today's yellow hybrids. The blue colouring is due to the presence of anthocyanins in the corn–the same health promoting compounds found in purple berries and red wine.
It is ground into flour and used as feed for animals. It doesn't have the sweet, tender taste that we are used to in the new corn hybrids. Is that a good thing? The new hybrids are all sugar.
20% more protein is amazing! So much better for egg production in chickens, meat building in pigs and cows, and milk production in dairy!
It's also better for us! With less sugar and more protein, it can be part of the diet of someone with blood sugar problems. Blue corn meal is milled dry blue corn, while blue corn masa harina has been roasted before milling. Like all organic corn products, blue corn products should be stored in the refrigerator or freezer.
Blue corn meal or masa harina is used in many recipes–pancakes, cornbread, tortillas–much like you'd use regular corn meal or masa harina. Here are a couple recipes I found specifically using blue corn meal:
Blue Corn Pancakes
Yield : Makes about 25 small pancakes
1 1/2 cups blue cornmeal
1/2 cup all-purpose flour
1 teaspoon salt
1 tablespoon plus 1 teaspoon baking powder
2 eggs, lightly beaten
1 1/2 cups milk
4 tablespoons melted butter
Unsalted butter, for the griddle
Sift the dry ingredients into a mixing bowl. Add the eggs, milk, and butter and mix thoroughly. Cook the pancakes on a hot, buttered grill or skillet, using 2 tablespoons of batter for each pancake. Keep the pancakes warm in a low oven until ready to serve.



Blue Corn Cornbread
Original Recipe Yield 1 – 9×9 inch pan of cornbread
1 cup blue cornmeal
1 cup all-purpose flour
5 teaspoons baking powder
1/4 cup white sugar
1 pinch salt
2 eggs, beaten
1 cup milk
1/2 cup butter
Preheat an oven to 350 degrees F (175 degrees C). Grease a 9×9 inch baking dish.
Mix cornmeal, flour, baking powder, sugar, and salt in a bowl. Sift 3 times. Stir the eggs and milk into the cornmeal mixture. Place the butter in the prepared baking dish, and melt in the preheated oven. Mix hot, melted butter into the cornmeal mixture. Transfer cornmeal mixture to the prepared baking dish. Bake on center rack in the preheated oven for 30 to 35 minutes, until the edges of the cornbread pull away from the sides of the dish, and a toothpick inserted into the center comes out clean. Let cool 10 minutes before cutting.


If all goes well, I will have these heirloom, organic blue corn seeds for sale this fall!


Sheryl – Runningtrails blogs at Providence Acres Farm Blog.

Do you have a recipe post or kitchen-related story to share on the Farm Bell blog? See Farm Bell Blog Submissions for information and to submit a post.

Want to subscribe to the Farm Bell blog? Go here.
Check out the latest blog contributor giveaway!