Growing up, I never remember having our enchiladas rolled unless we ate at a Mexican restaurant. My mom always made a kind of Mexican lasagna of sorts. Whatever you choose to call them is up to you, Enchilada Casserole is probably a more proper name than Lazy Enchiladas. These take no time to whip up and they are SO GOOD.
I'll show you how to make them and then list the recipe ingredients at the bottom of the page. Ready, Set, Go!
Put a layer of enchilada sauce down on the bottom of your pan. This is a 15 x 9 inch pan. We had seven people in the house for the meal (a man, a woman, a teenager who eats more than a man, and four kids who eat more than me) and after dinner we had just enough left for lunch for those who wanted it.
Lay a hefty layer of corn tortillas down. This makes your base and you want it to be a good one so when you're scooping it out of the pan to eat it, it doesn't just break and go everywhere.
Sprinkle on some ground beef….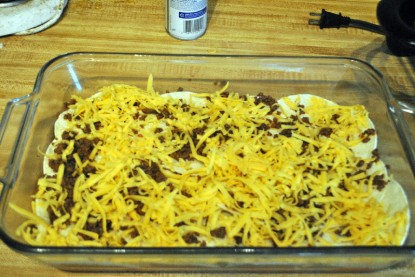 And cheese…..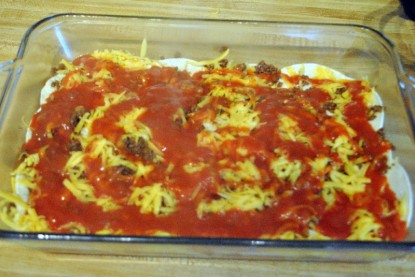 And then a layer of enchilada sauce. Repeat layers. (I do it two more times.)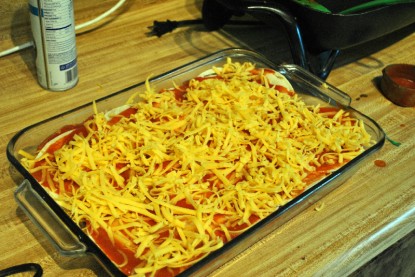 The top layer, I do a little differently. Put down your tortillas, then sauce and then cheese. I do it this way so the cheese has a chance to get all brown and gooey. If you put sauce first the cheese doesn't get a chance to make a crispy edge all around the sides.
Pop it into a 350 degree oven until the cheese is melted and the whole thing is bubbly. Usually about 30-45 minutes. Add toppings such as lettuce, onion, tomato, olives, salsa, hot sauce, and sour cream. We like to have refried beans and Mexican rice to go along with it, but that's just us.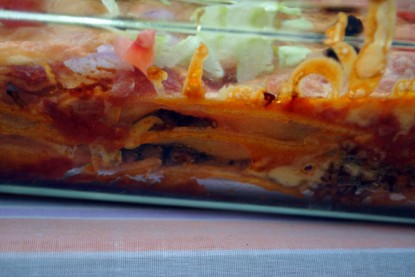 Lazy Enchiladas:
(Makes a 15 x 9 pan and serves approximately 10 with side dishes.)
2 pounds ground beef, cooked and seasoned with 1 packet of taco seasoning (or homemade seasoning)
corn tortillas
4 cups enchilada sauce
5 cups cheese
Optional Toppings
lettuce
onion
tomato
olives
sour cream
salsa
hot sauce
I hope you enjoy this as much as my family has. It's a great dish to take to potlucks and bring-alongs. It's always well received and people LOVE it!
Get the printable and save it to your recipe box: Lazy Enchiladas