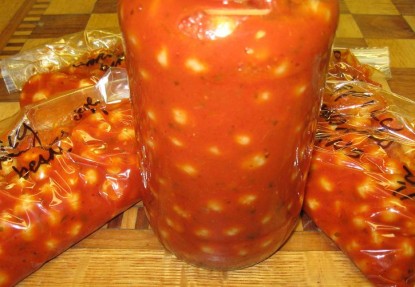 Difficulty: Easy
Servings: 12 six-ounce servings
Prep Time:
10 minutes
Cook Time:
15 minutes
Ingredients
1 (16 oz.) bag of dried garbanzo beans prepared per instructions OR 4 (15 oz.) cans of garbanzo beans
26 oz. jar favorite pasta sauce
4 Tbls. vegetable oil
1 cup diced onion
1/2 tsp. ground cumin
1/4 tsp. red pepper seeds
1/4 tsp. coarse ground black pepper
1/4 tsp. ginger
1/4 tsp. cinnamon
1/4 tsp. cream of tartar
1/2 cup water (put into emptied pasta jar and shake to get all the paste from the jar)
Directions
You can either use (4) 15 ounce cans of drained garbanzo beans or do what I did, preparing a 16 ounce bag of dried garbanzo beans per instructions on the bag (soaking overnight, draining and cooking about 2 hours until tender). If this is your plan, begin soaking the day before you want to cook this recipe. Then cook them before going any further. Total preparing time for dried to cooked beans is overnight and 2 hours cooking.
Put oil, cumin, and onion in a saucepan over medium heat and cook until onion is tender. Lower heat to simmer and add black pepper, red pepper, cinnamon, ginger, cream of tartar, water, tomato sauce, and cooked garbanzo beans. Heat through, continuously stirring due to possibility of sauce burning. Makes 12 six-ounce servings. You can freeze or pressure can it, too.
Categories: Beans, Beans, Grains & Rice, Other Side Dishes, Side Dishes
Submitted by: siegreich on June 21, 2011