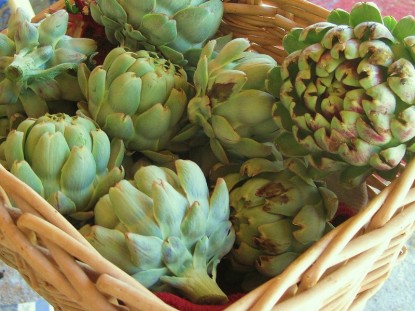 Difficulty: Easy
Servings: as much as you make
Cook Time:
45-50 min
Ingredients
Fresh artichokes
Directions
1. Submerge completely in water. Use a smaller pan lid to hold them under water, if necessary.
2. Boil 45-50 minutes, or until tough outer leaves pull off easily.
3. Drain completely.
4. Pull off leaves, dip in favorite dips (garlic butter, mustard, mayo, vinegar).
5. Scrape tender part of leaves clean with your teeth.
6. Do not eat spiny parts or pokey undeveloped petals.
7. Scrape out spines, enjoy the heart of the artichoke.
Categories: Vegetables
Submitted by: laree on June 21, 2011