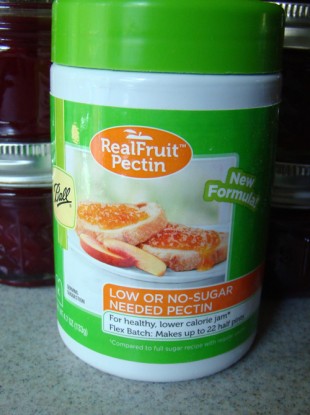 A sad fact of my jam- and jelly-making life is that not all pectin brands are equal. They have very different processing requirements. You can't substitute one brand for another and use the same instructions. I found out the hard way.
Remember that! You can't substitute one brand for another and use the same instructions.
I now use Ball Low or No-Sugar Needed Pectin instead of Sure-Jell. I made the switch so that I didn't have to use so much sugar in my jelly. Ball also has a special 'instant pectin' to use for freezer jams. (I haven't used it yet, but it's marked for freezer jam on the label.)

Here is the basic process for using any Ball pectin – the regular kind and low/no sugar. This won't work with Sure-Jell.
1. Stir the pectin in the cold fruit/juice or water. NO SUGAR YET. Really. I'm serious. Don't go there.
2. Bring to a boil and boil HARD for 1 minute. This activates the pectin.
3. Add the sugar or syrup.
4. Bring to a boil again and boil HARD for 1 minute.
5. Put in sterilized jars and process to seal.
A lot of old recipes have you adding the pectin to the sugar. That doesn't work with Ball. I know. I've tried it. Use Ball pectin the way I described above.
Notes:
'Hard boil' means it's boiling so hard you can't stir it down. Keep stirring. If the boil goes away, it's not boiling hard enough. When it boils even with you stirring, it's a hard boil.
Sometimes you need to soak your fruit or whatever overnight with the sugar. Don't worry about that. DO NOT stir Ball pectin into the sugar/fruit mix. I know. I tried it. Dissolve your Ball pectin in cold water instead. Three cups works well and it will boil down quite a bit as you're getting the water and pectin to the hard boil stage. You'll add the fruit/sugar mix after the first hard boil.
Add the sugar only after the Ball pectin has been activated by the 1 minute hard boil. It doesn't matter if you're adding just dry sugar, or petals and sugar that have been sitting overnight and are now syrup. I've done it both ways with success.
To convert an old recipe or a Sure Jell recipe, just re-arrange the order in which you add things. Add the pectin to cold fruit/juice or water; boil; add sugar or fruit/sugar mix; boil. You'll still be able to use those recipes – you'll just need to adjust your thinking a bit.
Take the opportunity to reduce the sugar you use in those old recipes. You'll probably find that you can cut out 1/3 of it and not even notice. Play around. It's an excuse to make more jam.
This year, to make our jam- and jelly-making lives even more exciting, Ball has a new pectin product out. It's a quasi-bulk jar of pectin, 4.7 oz, designed so that you can adjust the amount of pectin easily to the amount of jam you want to make. If you only want two jars of jam, you only need 1 1/2 tablespoons of pectin–the old packets of pectin were 3 tablespoons.
It's a good idea. But it's going to take some getting used to.
First, the bad news. The lovely paper insert full of recipes that used to be in the box has now been replaced with a sorta-sticky wrap-around label. No more fun recipes. No more freezer jam recipes. I looked online to find out if they had a recipe page, but I can't find one. If you want more recipes, you could go over to the Sure Jell site, but remember those cooking directions will NOT work with Ball Pectin–use the instructions for conversion above!
Another thing that really bugged me was the quantity of pectin inside the jar when you open it up new.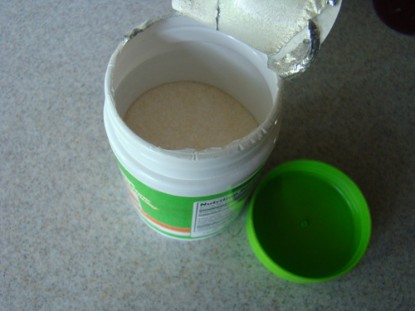 I opened this fresh jar just before I took the pic so you can see that NEW, it's only just over half full. The first jar I opened was the same. I expected some settling, but that's ridiculous. As a consumer, I am not okay with this.
Now, for the good news. Ball makes great pectin and I love it because with the low or no-sugar pectin you can use as little sugar as you want. You don't have to use ANY sugar with this pectin and you'll get great jam and jelly. Just make sure you use the procedure they recommend that I outlined above. You'll love the result.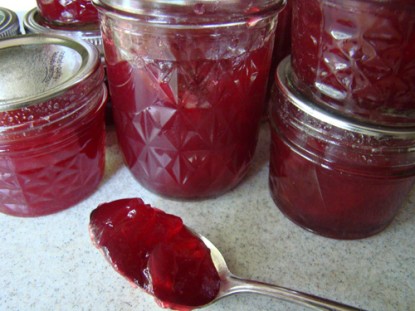 Rose petal jam made with Ball pectin.
Good luck! Ball Real Fruit Pectin is a terrific product that makes wonderful jams and jellies.


Robin from Rurification blogs at Rurification.

Do you have a recipe post or kitchen-related story to share on the Farm Bell blog? See Farm Bell Blog Submissions for information and to submit a post.

Want to subscribe to the Farm Bell blog? Go here.
Check out the latest blog contributor giveaway!