Homemade cranberry-orange relish — I'm completely hooked on this stuff. The taste is incredible, and anybody who can operate a measuring cup and a blender can make it in minutes.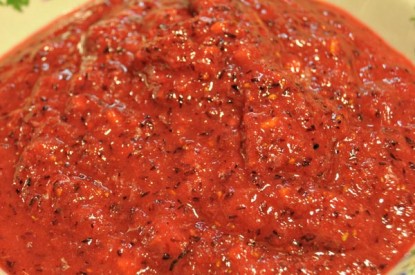 I don't know who in my family started making Cranberry-Orange Relish or where the recipe originated. As far back as I can remember noticing such things, a dish of the relish graced the table whenever a holiday meal included a roasted turkey. Until my mother compiled a cookbook of family recipes a few years ago, I'd not seen the Cranberry-Orange Relish recipe written down anywhere. Except on the notepad by my kitchen phone — every few years I'd have to call my mother to double-check the proportions. (Some years I just winged it and tortured the family with taste tests, the result of which usually was 'needs more sugar'. )
Here's what you need to get started: 1 measuring cup, 1 blender or food processor, 4 cups cranberries, 2 oranges, and 2 cups sugar. There's no cooking, no complicated tricks. Just 3 ingredients and a couple kitchen tools.
Start with the 4 cups of fresh cranberries. (You can use frozen if fresh aren't available, but thaw them first.)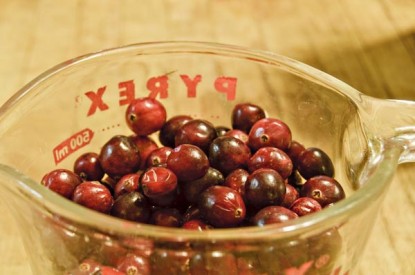 Cut 2 oranges into sections. Remove any seeds, but leave the peels intact.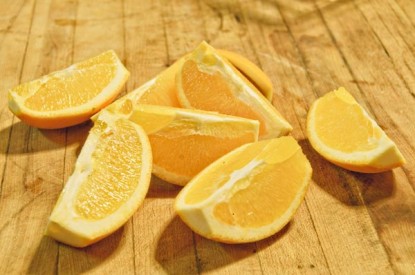 Dump the cranberries and orange sections into the blender or food processor. I use an old stainless steel Vitamix blender. It's powerful and almost as noisy as my chainsaw. Really, it's overkill for this recipe but I feel powerful when I turn it on and hear the roar. Feel free to use your ordinary, relatively quiet kitchen appliance.
Add two cups sugar. I like to use the organic sugar I buy in bulk through the co-op. It's less refined and has an interesting, more complex flavor. It also makes me feel a little less sinful about the sugar proportions — yeah, it's half sugar, but it's organic!
You're not falling for that one? Oh well. The regular granulated white stuff from the grocery store is fine, too, and it's cheaper.
Blend until finely cut. Stir the mix a bit to check for chunks of orange peel, and if you find any, give it a few more whirls with the blender. You don't have to process until it's a smooth puree. A little texture is nice.
Dump the mixture into a container and refrigerate for a few hours before serving. Feel free to sample while you're dishing it up. My husband had his samples on the Butternut Squash mini-muffins we had in the fridge. My daughter ate hers over pancakes. Me? I save it for the turkey.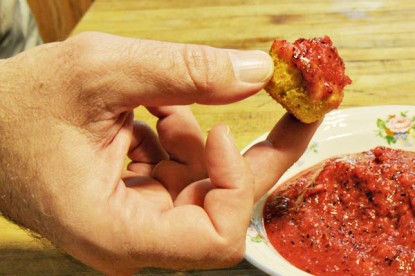 To recap — 4 cups cranberries, 2 cut oranges (no seeds), and 2 cups sugar. Dump in blender and process until all the parts are finely cut. Sample. Sample again. Refrigerate the rest several hours before serving. Makes 1 quart. 57 calories per 2 tablespoon serving.
Get the handy print page and save this to your recipe box here:
Cranberry Orange Relish.

Laura blogs at The Land of Moo.


Do you have a recipe post or kitchen-related story to share on the Farm Bell blog?
Read information here for Farm Bell blog submissions.

Want to subscribe to the Farm Bell blog? Go here.