I knew from a very early age that I was a baker and not a cook. So not. a. cook. From the day my grandma taught me how to make pie, I was able to bake most anything – failing at a recipe did not discourage me but challenged me to master that recipe. I love the feel of my hands in bread dough, the way that a good recipe comes together and ends in a beautiful, golden, risen loaf of bread. Success, for me, is in the right shade of brown on a cookie and when people ask for more.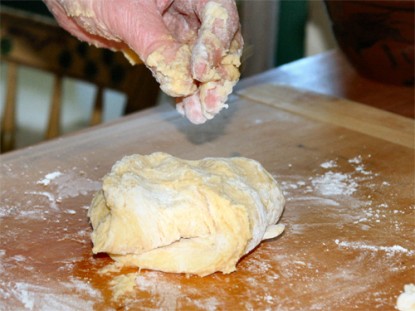 Cooking. Not so much. My first memory of cooking was when my mother had gone to Pittsburgh for a week to stay with my grandparents (my pie-making grandma) while my grandpa was in the hospital. I was the only girl and at that time, it was expected that I would cook dinner. I remember the nearly raw chicken I cooked for my dad – I thought it only had to cook for 15 minutes on really high heat. He never said much more than "Beth, this chicken sure is a little chewy". He ate anything I cooked. My brothers on the other hand still remember 30+ years later the green dumplings I made. Green, gooey, gluey dumplings. I can't even remember where the greenish tinge came from. My oldest brother reminds me from time to time of when I thought a pot roast was a steak and tried baking it for him. Even he couldn't eat the whole thing. I made our dog very happy that evening.
For well over 30 years now I've experimented with the Thanksgiving turkey. I've used different techniques, recipes, family secrets, no-fail tips from Butterball, CITR community recipes, you name it — the turkey has always wound up tough and tasteless. I've cooked turkeys in the oven, in a roaster, on baking pan, in a plastic bag, covered with aluminum. I've basted turkeys, stuffed butter in the skin, covered with garlic. Always tasteless, always tough. I've dropped turkeys on the floor. The time I baked a turkey on a cookie sheet and the stinking thing slid off and skidded across the floor and the dogs came racing out to the kitchen A Christmas Story style; the time when I gave the carcass to a visiting friend of my daughter to drop into the dumpster at his apartment building because I didn't want to deal with it. And don't even get me started on the adventures of thawing I've had. I never really developed the relationship with turkey that my mom has (she's a cook, not a baker) – calling the thing Tom, bathing him in the sink, and so on.
I've even ditched the turkey on several occasions. One year having pot roast, one year no meat at all. This year, in fact, one of my 13 year old daughters even offered the opinion that perhaps we should bypass the turkey again and have lasagna. I'm thinking that is a possibility.
But I LOVE a good, roasted, tasty turkey. But as I tell my students, one should build on one's strengths. And so we shall have stuffing (CITR-style), sweet potatoes, rolls, pies, pepperoni bread, corn, green beans, mashed potatoes, and applesauce. Most of the recipes I use come from this very site! And while I don't have my own recipes to share (other than the applesauce), I would just point you in the direction of Suzanne's Old-Fashioned Cornbread Dressing, her Cornmeal Yeast Rolls, and the most magnificent Whole Berry Cranberry Sauce you can imagine!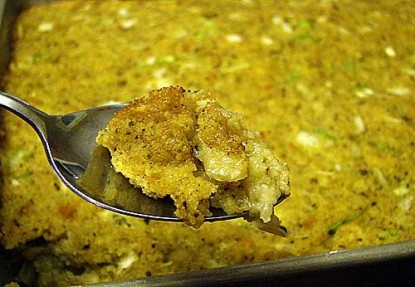 Thank you Suzanne for supplying my family with the best recipes for a meal that makes my entire family happy! I don't know where I would be without finding your site years ago. Oh, and your grandmother bread too!
Happy Thanksgiving from One Old Goat (and her little farm)

Beth blogs at One Old Goat.

Interested in contributing a guest post to the Farm Bell blog? Read information here for Farm Bell blog submissions.

Want to subscribe to the Farm Bell blog? Go here.