I have a niece who loves the expensive foods and drinks without the food budget to go along with her tastes. And she has an aunt who loves to be frugal and copy those expensive foods and drinks. The latest craze that she's gotten me hooked on is Stacy's Pita Chips–with dip, with hummus, plain, you name it. I keep telling her, "Sam, those are too expensive, we can make them!" Then I get the raised eyebrow…"When?" So I finally started the experimenting!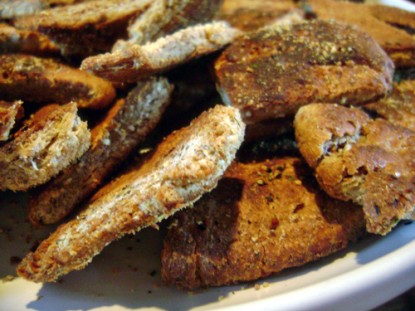 I love the Multigrain and the Parmesan Garlic and Herb ones best. I wanted to combine the two! So I started with the ingredients of the Multigrain Pita Chips first–enriched wheat flour (wheat flour, niacin, reduced iron, thiamin mononitrate, riboflavin, folic acid), sunflower oil (rosemary extract, folic acid), and/or canola oil (rosemary extract, folic acid), whole wheat flour, stone ground whole wheat flour, sea salt, and less than 2% of the following ingredients: sesame seeds, organic cane sugar, active yeast, rye flour, crushed rye, compressed yeast, flaxseed, corn grits, crushed barley, crushed oats, rye sour, salt, cracked wheat, millet, malted barley, flour, rye malt, rolled wheat flakes, spice, enzymes, and ascorbic acid.
The US Code of Federal Regulations (21 CFR 101.4) states that ingredients must be listed in descending order of predominance based on weight. The following exception is made in 21 CFR 101.4(2):

The descending order of predominance requirements of paragraph (a)(1) of this section do not apply to ingredients present in amounts of 2 percent or less by weight when a listing of these ingredients is placed at the end of the ingredient statement following an appropriate quantifying statement, e.g., "Contains __ percent or less of _" or "Less than _ percent of __." The blank percentage within the quantifying statement shall be filled in with a threshold level of 2 percent, or, if desired, 1.5 percent, 1.0 percent, or 0.5 percent, as appropriate. No ingredient to which the quantifying phrase applies may be present in an amount greater than the stated threshold.
All that means is the main makeup of these pita chips is what is before "and less than 2% of the following ingredients:"–basically a whole wheat pita bread. Based on a pita bread recipe, "the less than 2%" is 1 Tablespoon or less.
I scoured the internet for pita recipes–they're mainly all the same. And take 3-4 hours. I found a method mentioned in a few sites from Bernard Clayton which allows a recipe to be done in an hour–from start to finish.
I decided to use this method and of course being me, I started the hard way. I just jumped right in and made whole wheat pita bread without seeing how hard or easy pita bread is to actually make with regular bread flour. Everything I read online said pita bread was easy…and the internet doesn't lie! Humph!
That can all be seen below. Whole wheat isn't as easy to make as white. There is some tweaking that needs to happen first–and I'm still tweaking. But the best thing about mishapped pita bread–you can make pita chips!
Let's first make real pita bread! (This was my 4th attempt at pita bread…and the only recipe I made using regular flour. So it is easy.)
Pita, or pocket, bread is a slightly leavened bread that is baked in a hot (450-500 degrees) oven (traditionally a brick oven) using the moisture in the dough to create steam, puffing the bread up, leaving a "pocket" when the bread has cooled.
How to make Pita Bread:
Mix 1 cup bread flour (I used Suzanne's Bread Flour recipe), 1 1/2 teaspoons salt, 1 Tablespoon sugar, and 1 packet or 1 scant Tablespoon yeast together.


Add in 2 Tablespoons canola, sunflower or olive oil and 1 cup warm water.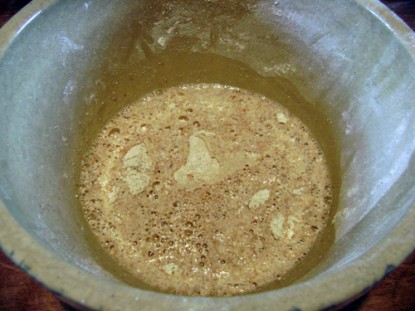 Stir vigorously for 3 minutes.

Add in additional flour (up to 1 1/2 cups more) in 1/2 cups increments, stirring after each addition. It will be doughy and grabbing onto the sides of the bowl.


Dump onto a floured board. You won't need this much flour!! You want your dough to remain moist–not to the point you can't knead it, but moister than normal bread dough. Knead vigorously for 6 minutes, get that gluten moving!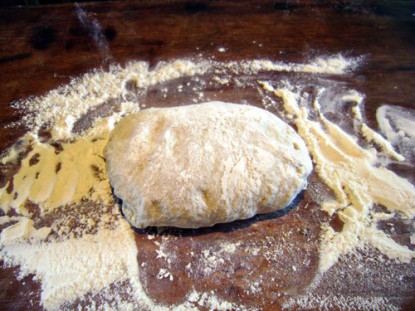 Divide dough into 8 sections. I figured out this nifty way the other night making tortillas…then found it on several sites yesterday researching pita bread! Pat your dough into an even circle, then use a cutter/chopper to cut it in even sections like a pizza. This still isn't exact, but closer and faster for me than pinching off 8 pieces.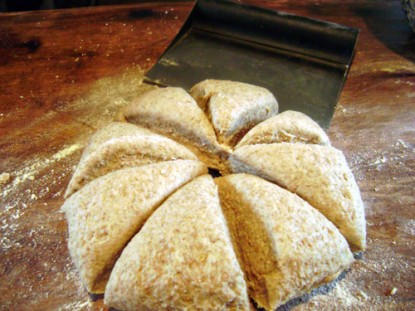 Roll each section into a ball.


Cover with a warm, moist towel and let sit for 20-30 minutes.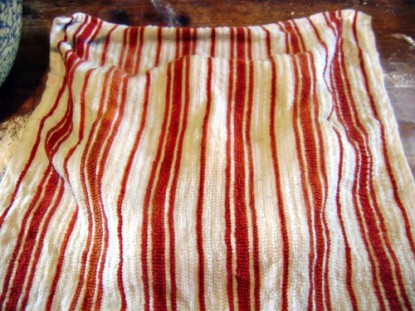 While they are resting, preheat the oven to 500 degrees. I used my pizza stone to bake them on, so I put that in there, too.

Pat each round into a circle and roll out to 3/16″ thick. I found one of my bowl scraper handles was 3/16″ thick, so I used that for measuring each circle.


Place them in the hot oven, either on a stone or on aluminum foil. I baked them in 2 batches. Flatten out the 2nd batch before putting into oven, you don't want to put it in the oven raised.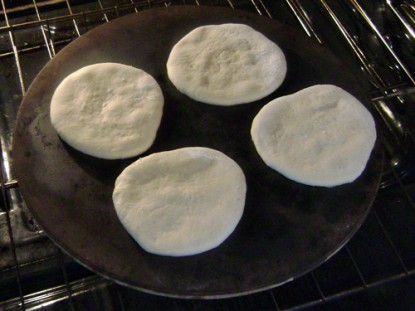 Bake for 5-8 minutes–until they are poofed and browned. Mine started poofing after a couple minutes, but I left them in until they were browned a bit.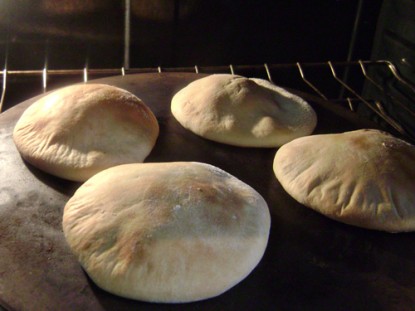 Let them cool. The puff will flatten out.


I just used a pizza cutter to cut them in half.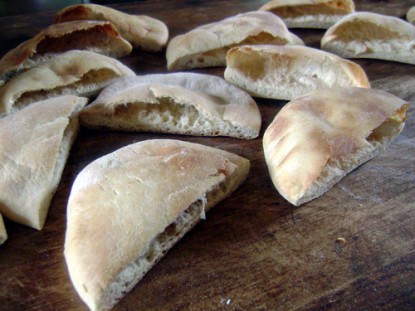 Eat them fresh, make pita chips, or fill them with sandwich fixings.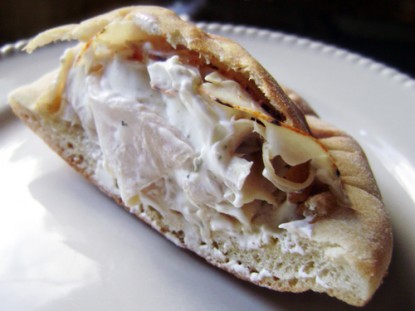 Get the handy print page and save this to your recipe box here:
Pita Bread.
My attempt at whole wheat pita bread was a flop. One–one!–pita bread out of 24 actually came out as a pocket.
I substituted the 2 1/2 cups bread flour with 4 Tablespoons wheat gluten (may have needed more), 2 Tablespoons flaxseed, 2 Tablespoons ground 7-grain cereal, 1 Tablespoon corn grits and 2 cups whole wheat flour.
They tasted delicious! I don't think my dough was moist enough, so there was no steam to poof them, leaving no pocket. They rose fine, just didn't have the poof.
So I made chips with them all!
How to make Pita Chips:
I rolled out my mishapped pita breads as thin as I could with the rolling pin. If you're using pita bread that actually worked (or using bought), don't roll them out. Continue to the next step!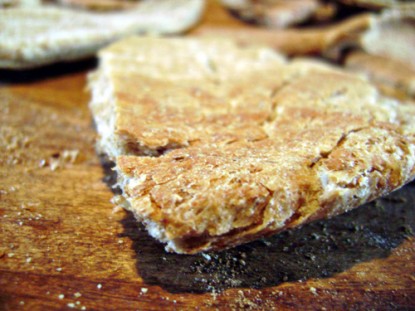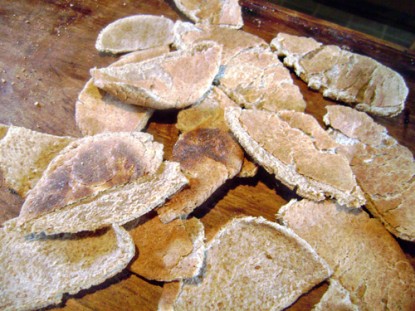 The ingredients listed on the Parmesan Garlic and Herb pita chip was Parmesan cheese, garlic, and parsley. Because I can, I didn't just stop at garlic and parsley for my herbs! I ground together some rosemary, black peppercorns, dried red peppers, garlic, onion, dried tomato, and parsely–yum! Mix herbs in with a few tablespoons of olive oil.


Brush both sides of pita bread with the oil/herb mixture. Sprinkle Parmesan cheese over top. Cut pita bread (or flattened out, mishapped bread) into triangles.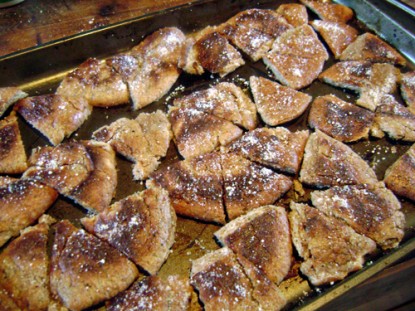 Bake in a 400 degree oven for 6-10 minutes (depending on how thick the bread is to start with) until they are crisp.
Feel free to experiment with the toppings!! None at all, sea salt, different herbs, cinnamon and sugar, Parmesan cheese by itself…it's up to you–because you can!


Get the handy print page and save this to your recipe box here:
Pita Chips.


Don't be hesitant to manipulate and re-create your own favorite foods from the store! Read and study the ingredients. Except for spices, the manufacturer has to tell you what is in the food you're eating! But you don't have to add in all of those words you can't pronounce…just skip them!
Cindy blogs at Chippewa Creek ~ Our Life Simplified.

Do you have a recipe post or kitchen-related story to share on the Farm Bell blog? See Farm Bell Blog Submissions for information and to submit a post.

Want to subscribe to the Farm Bell blog? Go here.