Chestnuts roasting on an open fire…
Yeah, I don't really know what that means.
I am pretty sure chestnuts don't grow in Arizona. They only show up once a year–during the holidays. If I don't buy them early enough, they will be all weird and spoiled. It is like trying to buy "fresh fish" in Phoenix. Grody.
So, I had to scour the internet for instructions on how to cook chestnuts. Silly, huh?
Some instructions said I should boil them, then roast them. Some said roast, some said cut then roast, blah blah blah. I've tried them all with limited success. I am not sure if the end result is weird because I was doing something wrong, or if the nuts themselves are weird due to the "shipped to Arizona curse". Whatever, I like chestnuts and all, but when push comes to shove, I am inherently lazy. No nut should be this much work.
Still, since there are few nuts I can eat (tree nuts seem to induce an annoying itching inside my ears and throat), I guess the work of getting to the yummy inside of a chestnut is worth it.
Sometimes. Maybe. Once a year.
Here's what has worked best for me.
Cut a cross in the chestnuts, just deep enough to break the husk.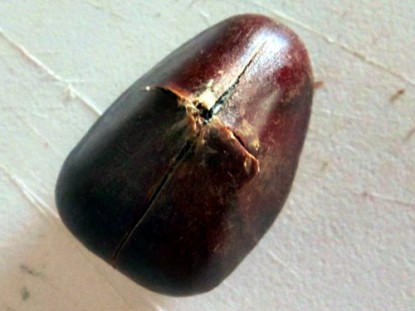 Place the chestnuts in a microwavable bowl, filled with water.
Microwave on high, for 7 minutes or until the nut's shell begins to peel back.
Drain the nuts, and roast in the oven at 400 degrees for 15 minutes or so.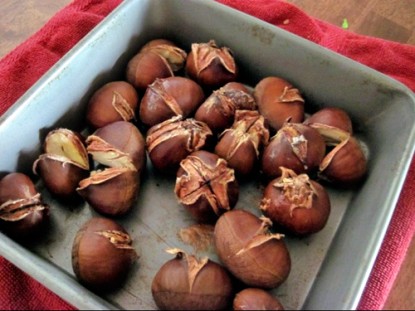 Peel nuts while still warm.
Enjoy!
Does anyone have some suggestions for roasting chestnuts?



Larissa blogs at The Henway.


Do you have a recipe post or kitchen-related story to share on the Farm Bell blog?
Read information here for Farm Bell blog submissions.

Want to subscribe to the Farm Bell blog? Go here.