My mother always, and I mean without fail, served black-eyed peas on New Year's Day. I never liked black-eyed peas, but we were prodded into consuming them with the promise of money. The more black-eyed peas you ate on New Year's Day, the more money you'd have in the coming year.
Not that I ever had any money when I was a kid anyway, so I'm not sure why I bought into that, but it got me to eat the peas.
Once I was all grown up and actually had some hope (if faint) of having any money, I kept fixing black-eyed peas on New Year's Day as a tradition, but I still didn't like them much. Then I discovered Hoppin' John and black-eyed peas turned flavorful and spicy. (There are various theories behind the appellation Hoppin' John and you can read some of them here.) Over the years, I've developed my own way of making Hoppin' John that suits me. It's a versatile recipe that you can adapt to your family's tastes. The main point is that black-eyed peas don't have to just be black-eyed peas. Put some good stuff in there and make 'em special.
Eat them on New Year's Day and next thing you know, YOU'LL BE RICH!
Okay, I'm still not sure about that part (hasn't happened yet), but it's one of a number of traditional New Year's Day foods that ring in the fresh baby year with a bouncy shot of optimism. Try some Hoppin' John today.
This recipe is geared toward a pressure cooker, but I'll follow with instructions for using a plain old pot if you don't have one. Remember that when cooking beans in a pressure cooker, never fill the pressure cooker (beans plus water and any other ingredients) more than half-full and always add some oil to reduce foaming.
NOTE: Please refer to the manual for the pressure cooker you are using when following any pressure cooker recipe and adjust the directions accordingly.
How to make Hoppin' John:
4-6 slices bacon OR 1 ham bone
1 1/2 cups dried black-eyed peas
3 cups water
2 cups chopped onion, celery, green pepper (optional)
1 teaspoon crushed red pepper
1 teaspoon seasoned salt
I actually prefer peppered bacon when I'm making Hoppin' John, but a ham hock is more traditional. You don't need to pre-soak the black-eyed peas if using a pressure cooker. Just rinse well and get on with the cooking!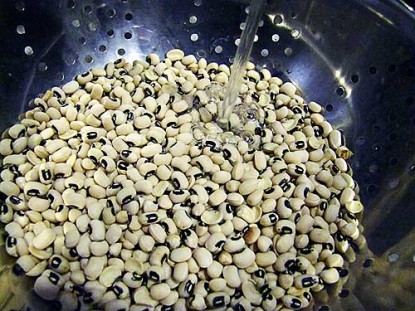 If using bacon, partially cook bacon right in the pressure cooker where you will cook the beans.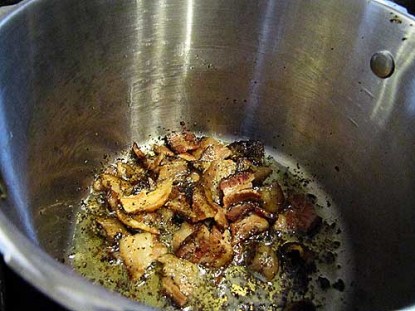 I let the bacon grease stand as the oil that would otherwise be needed to reduce foaming in the pressure cooker. After partial cooking, cut bacon in 1-inch pieces. Add dried beans, water, and remaining ingredients including ham bone (if using instead of bacon).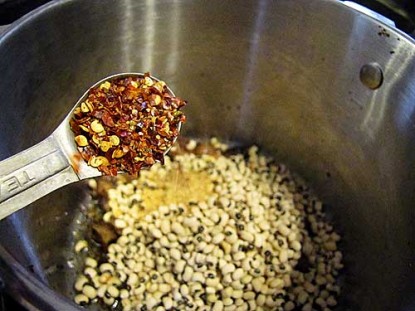 If you don't like spicy, you might not want to use a whole teaspoon of crushed red peppers, but that's how I like it.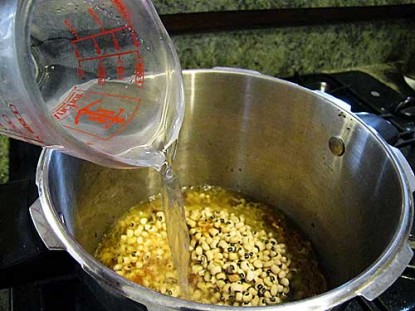 If using a ham bone, add a tablespoon of vegetable oil. If using bacon, leave at least a tablespoon of bacon grease in the pot. Use any mixture of onion, celery, and green pepper adding up to 2 cups, if desired.
When using a pressure canner or cooker, I always use a small bit of oil on a paper towel and wipe all the way around the rubber sealing ring. This helps ease release of the lid after cooking.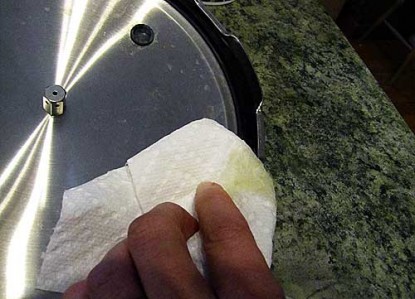 Align handles and lock down the lid.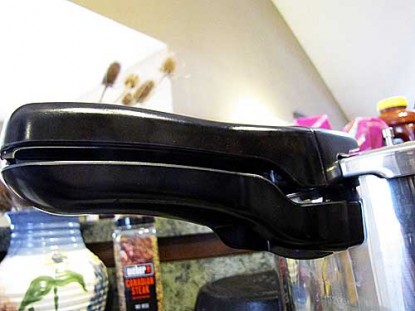 Place the regulator on the pot.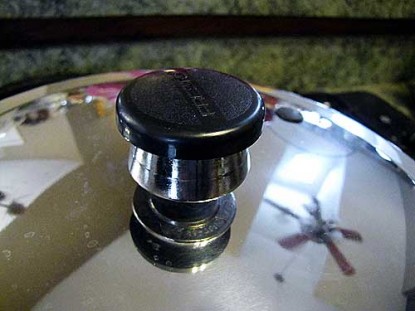 Bring the pot to pressure over medium-high heat. Once the regulator starts jiggling, cook 4 minutes, lowering the temperature slightly. (You want the regulator to jiggle gently, not wildly.) After 4 minutes, turn off the heat and let the pressure go down on its own. Serve over brown or long grain and wild rice. Also great with cornbread!
My pressure cooker has a little button that shows when it reaches pressure. The button comes up.
When the pressure goes down after cooking, the button goes back down.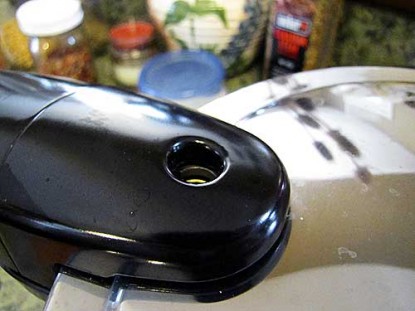 It's an added safety feature that shows you visually that it's okay to open the pot. (I have the Presto 6-quart stainless steel pressure cooker.) Remove the regulator before removing the lid.
The black-eyed peas are ready! My pressure cooker builds and drops pressure in under 15 minutes. This recipe can be on the table in under an hour. You'll barely have time to cook the rice! It works nicely as a side dish, but it's a main dish all by itself.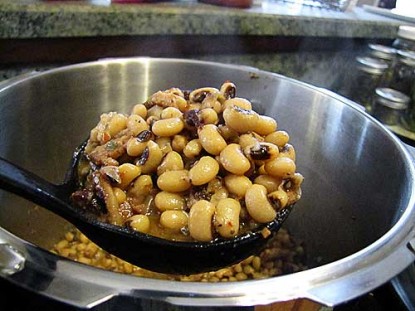 If NOT using a pressure cooker, pre-soak the black-eyed peas. Combine the black-eyed peas and the 3 cups of water. Bring to a boil; turn off the heat and let sit covered for one hour. Return the pot to a boil and add the remaining ingredients. Simmer for about 1 1/2 hours till black-eyed peas are tender.
As you can see, it takes 2 1/2 times longer to prepare this dish when not using a pressure cooker. I love my pressure cooker! Hoppin' John is ready so quickly, it also makes a great busy day meal any time of the year. If you don't use any meat at all, by the way, it's a delicious vegetarian (in fact, vegan) meal. And it's got flavor! These aren't your mother's black-eyed peas!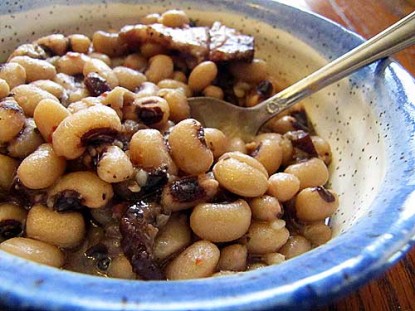 We've added a Pressure Cooker category to Farm Bell Recipes, so bring on your pressure cooker recipes! We want to see them.
Find this recipe on Farm Bell Recipes for the handy print page and save it to your recipe box:
Hoppin' John
Thank you all so much for being here and coming along with me in 2010 as I expanded this site. I created Farm Bell Recipes to serve you, but you are the ones who make the community here at Farm Bell Recipes, on Chickens in the Road, and on the CITR forum.
Happy New Year and here's to a great 2011 for all of us!

Do you have a recipe post or kitchen-related story to share on the Farm Bell blog? Read information here for Farm Bell blog submissions.

Want to subscribe to the Farm Bell blog? Go here.