Say hello to Liz from Hillsville, Virginia!


Q. What are your favorite things to cook?
It's a close race between garden vegetables and baked goods, especially homemade bread. I'm always on the prowl for vegetable recipes to add to my repertoire, though I'm still more likely to throw anything and everything ready for harvest into a quick stir fry. Lots of variety there depending on what's in season.

Q. How/when did you learn to cook?
I grew up in a small community where I had family on 3 corners of the only crossroads in town. Everyone had large gardens and/or farmed. In the fall family got together for hog and chicken killing time, and I can remember walking in the kitchen of my great grandmother's to find hog heads sitting around on the tables, counters and stove-top, prepped for headcheese. As a 5 year old I was surprisingly too intrigued to be scared or repulsed, but that scene would have been great in a horror film!

Q. Tell us about some of your cooking triumphs.
Learning to bake homemade yeast breads in the heat and humidity of coastal NC. I broke down and finally asked a professional baker for advice, and was told it was the humidity and I'd not succeed without a professional proofing cabinet. I didn't believe that and kept trying. I took me years, but I finally succeeded.

Q. What was your most memorable cooking tragedy?
Single cooking tragedy? I can't think of a single tragedy, more like a huge adjustment period after I had my first child. I could no longer leave something cooking on the stove to run and quickly check on her. I found out quite by accident one night when I almost burned her foot, that I also couldn't hold her, football style, while stirring things on the stove!

Q. Describe your kitchen. Do you love it, hate it, and why?
For now, my kitchen is the one in my daughter's rental house. It's a very basic kitchen with sloping floors, leaning counters and cabinets that I'm sure will hit the floor come hurricane season. But, there's space to knead dough and prepare homecooked meals so I don't complain!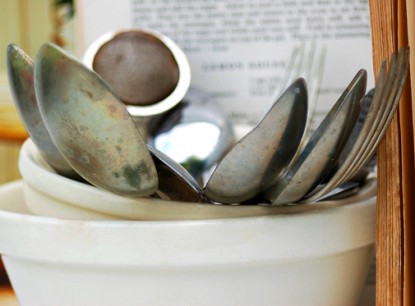 Q. Is your pantry organized and are your kitchen drawers tidy? We need to know.
No. They were when I had my own house, but not now. In fact, most of my stuff is in storage, and I'm using only rudimentary cooking tools until I get my stuff out of storage.

Q. Do you have any favorite family cooking traditions?
Growing up we had fried egg sandwiches on Saturday night. That's something I still do, using my own homemade bread, homemade mayo, and when I have chickens, my own eggs. Homemade makes simple food gourmet!

Q. What is the one gadget (or ten) you couldn't do without in your kitchen?
My cast iron frying pans. I travel with mine, and have inherited them from both sides of my family. My girls are already fighting over who will get which ones when I die!

Q. If you had to take one food to a deserted island, what would it be?
Tomatoes.

Q. What is your go-to comfort food?
Chicken and pastry, with my own rosemary, sage and parsley.
Some of Liz's favorite recipes that she's contributed to Farm Bell Recipes include: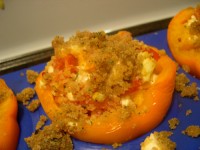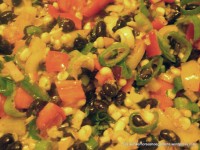 See all of Liz's recipes and blog posts!


Liz Pike blogs at Horseshoe Gardens.

Do you have a recipe post or kitchen-related story to share on the Farm Bell blog?
See Farm Bell Blog Submissions for information, the latest blog contributor giveaway, and to submit a post.

Want to subscribe to the Farm Bell blog? Go here.
What can you enter to win this month? Click here.