Say HELLO to Eve!
Q. What are your favorite things to cook?
Wiener schnitzel with mashed potatoes and cucumber salad. I have taught my children, now grown, how to make this and even my daughter-in-law knows how to make this dish.
Q. How/when did you learn to cook?
Well that is a hard one. I remember watching my Oma make some things for my brother and I. I guess I was paying attention as I learned the schnitzel dish from her and from my mother. We were living in Germany at the time, so I must have been 6 or 7. I also learned that German style bread with bacon grease/fat is very good to eat.
Q. Tell us about some of your cooking triumphs.
Making the German style red cabbage–it takes a while to cook and I learned that patience pays off. It is a great side dish or all by itself.
Q. What was your most memorable cooking tragedy?
There are two that I can remember. The first one was when my step-father was in Vietnam in 1968 and I was 14. I was so proud of myself for making a big box of sugar cookies and sending them over to him. I did not find out until many years later that instead of the cup or so of sugar, I accidentally added a cup of salt! To say the least, he could not eat them but it was the thought that counted. Sorry about that.
The second one was making my first turkey. Who knew that they left the giblets and neck inside the turkey? I guess if I had added stuffing to the bird I would have found everything. I also was told that it should cook over night–it was about a 25-pounder. I guess I did not hear the part about a low oven. AND that time the homes did not have smoke alarms. I'd rather wake up to the smell of coffee–burning turkey is not a favorite scent of mine.
Q. Describe your kitchen. Do you love it, hate it, and why?
Don't hate it, don't love it, the home is only 5 years old. We moved from Texas to North Carolina and had our home built. I thought I had everything covered, except that down-sizing from a home for 8 to a home for 4 is tough. I never have enough room for all of my pots, pans, bowls, etc. I don't know if any size kitchen will be big enough for me. My husband and I owned a steak and burger restaurant in Texas, so I have a lot of stuff that I do not want to part with. I love my island. I love that I have 2 pantries and one has drawers that slide out. You see, I am only 5'2″ so I cannot always reach things on my own. It does have a lot of cabinets–some too tall–so my footstool is on wheels.
Q. Is your pantry organized and are your kitchen drawers tidy? We need to know.
Yes and yes. Every 2 weeks we go shopping. But before I do, I go through all of the pantries and cabinets to see what I need. It is a habit from owning a restaurant–needing to do inventory and needing to find things quick. I also have most of my cooking spoons and whisks in large coffee mugs next to my stove. I can grab quick what I think I need.
Q. Do you have any favorite family cooking traditions?
We get busy making cookies and candies for the holidays. We go to the tried and true old recipes and then we also try new ones. Half of the family is still in Texas, so it is harder to get everyone together to bake cookies and candies–but getting a box in the mail is a great feeling. We love making truffles.
Q. What is the one gadget (or ten) you couldn't do without in your kitchen?
I love my assortment of wooden spoons–tall ones, short ones, fat ones, skinny ones, so maybe my spoons. Then my cast iron skillet–I will take that one packing with me if needed. You can pretty much cook anything in a cast iron skillet.
Q. If you had to take one food to a deserted island, what would it be?
Butter–is that a food group? I can catch the fish, chop the coconut and cook it all in the butter. Any one for seconds?
Q. What is your go-to comfort food?
Wiener Schnitzel, with the mashed potatoes, and cucumber salad. Every time it is made I think of Oma, mom, and my kids. I learned form Oma and Mom and passed it on to the kids. So far, 4 generations make this meal. We are teaching it to the fifth generation…not bad!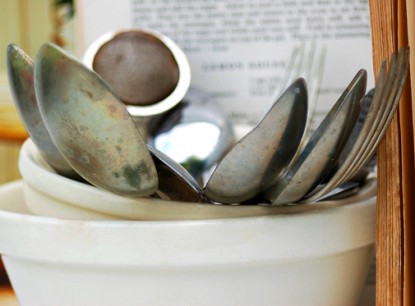 Some of Eve's recipes on Farm Bell Recipes include:
Wiener Schnitzel
Italian French Bread
Apple Strudel
Cheese Garlic Biscuits
Find all of Eve's recipes here.



Do you have a recipe post or kitchen-related story to share on the Farm Bell blog?
Read information here for Farm Bell blog submissions.

Want to subscribe to the Farm Bell blog? Go here.