As with most grown children, when they come home they want you to cook all their favorite foods. Carissa (my youngest daughter) wanted chicken and dumplings.
There is great controversy on dumplings–flat or drop–in our family.
I grew up with my Grandma Irene Tubbs making the drop variety. I didn't know there was any other kind until I got married. I will recount this story and then you can all laugh at me, but be kind. Remember I was 19 and only married three months. We started talking about chicken and dumplings. Steve told me how he just loved them, so I thought I would make some for dinner. I called Grandma and got her recipe and was so proud when I served them that night. Until….Steve said, "These aren't like my mom makes."
Being the sensitive person I was, I took that as an outright insult and never made chicken and dumplings again. What he meant was Mom made flat dumplings. He said that mine were good–they just weren't what he was used to. For twenty some years we didn't have them again. Now isn't that downright sad? I sure can be stubborn–I can say that about myself. My kids love them and their Grandma Bonnie, Steve's mom, made them for them every holiday. Finally, after all those years, I started making them again–only flat this time.
Fast forward to Missouri… When I married Harvey, for Thanksgiving the first year, he says we have to make chicken noodles…from his mom Almeda Diggs' recipe. Family traditions! You got to love them! He makes them totally different from the way I knew how to make them. He made the dough, rolled them out by hand like a pie crust, then rolled them up in a spiral roll and cut the noodles. They were really good.
For Christmas year before last, we got a KitchenAid Mixer and the pasta attachment. It was definitely a time saver, and the noodles were very uniform looking. We tried the recipe in the cookbook, then went back to his mother's recipe.
Back to Carissa and her dumplings… So now I have to convince her to try the new ones and all she's saying is, "Mom, I want your chicken and dumplings."
I bribed her by letting her use the pasta roller and cutter.
The recipe below is Harvey's mom's recipe adapted for the mixer and using the pasta roller and cutters.
How to make Mom's Chicken & Dumplings:
Egg Noodles with KitchenAid and Pasta Attachment
3 egg yolks
1 whole egg
4 tablespoons ice cold water
1 teaspoon salt
2 cups flour
Beat egg yolks and whole egg together with a whisk until very light, beat in water and salt. Add flour in mixer bowl and using bread hook, slowly add egg mixture. Beat until mixture forms a ball and makes a stiff dough–about 5 minutes on slow speed.
Take ball of dough and cut into about six 1-inch pieces. Flatten each piece, then run each piece through pasta roller on roller adjustment setting 1.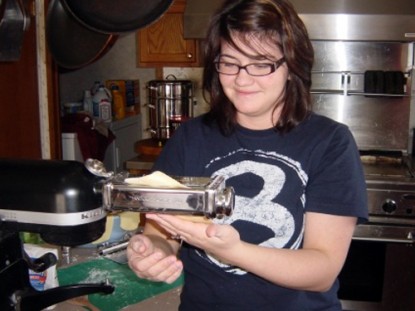 Turn mixer setting to speed 2 and run each piece through to knead. Fold flattened dough in half and run through a couple more times, until dough is smooth and pliable.
Carissa playing the role of Vanna White. This is how the rolled dough should look!
Lightly dust with flour while rolling and cutting to aid in drying and separation. Change setting to 2 and run through again a couple of times to desired thickness. Then change to desired size cutter (we used fettucini) and roll flattened dough through to achieve noodles.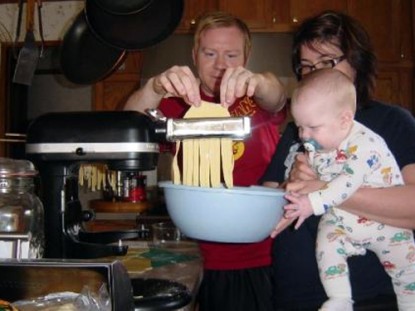 Even baby Skyler helped cut the noodles!
This is the finished project hanging on the pasta dryer. Let dry at least an hour. These noodles can be frozen for later but they're best cooked fresh.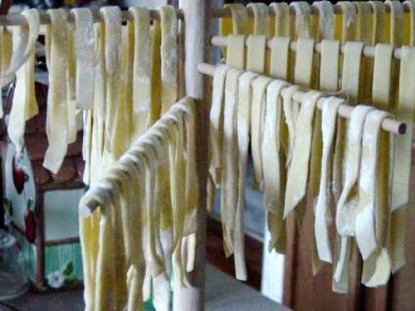 Chicken Broth or Soup
3 or 4 boneless chicken breasts
water to cover
1 onion, chopped fine
2 stalks celery (about 1 cup), chopped fine
1 carrot, grated fine
salt and pepper to taste
Cook the ingredients until chicken is falling apart. Take the breasts out and cut in small pieces. Add back to your broth, I then add a box of Swanson's Chicken Broth to that so we have lots of rich liquid. Bring to a boil. Add your noodles (I break them in smaller pieces). Cook until they are tender, approximately 45 minutes to 1 hour.
This is one of those recipes that gets better reheated. When you refrigerate the chicken and dumplings, it absorbs all the juice. To reheat–I add another small can of broth to it and bring back to boil.


Get the handy print page and save this to your recipe box here: Mom's Chicken & Dumplings.
Thanks, Carissa, for your help in making the noodles and being the model for this blog entry.

Ewenique blogs at Ewenique.


Do you have a recipe post or kitchen-related story to share on the Farm Bell blog?
Read information here for Farm Bell blog submissions.

Want to subscribe to the Farm Bell blog? Go here.