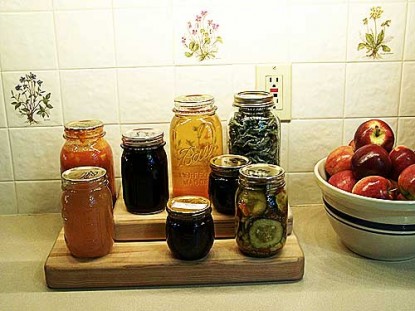 Hi, my name is Kelly and I'm a canning addict. I get an adrenaline rush when I hear lids pinging. My pupils dilate when I find a stash of canning jars at a yard sale. My pulse races when I find a bargain on produce. I am no longer in control of my addiction; it now controls me.
My addiction started innocently enough. When I was young, I would help my mom, aunts, and grandmother can the bounty from their gardens. I remember looking at the jars and all their lovely, delicious contents. I knew the delight of opening a jar in the middle of winter and tasting summer's goodness all over again. Who knew that this time-honored tradition would lead to the path I've chosen?
I can. I can anything I can get my hands on. I've gone from canning jellies, jams, pickles, and applesauce to making the leap into pressure canning.

Now soups, stews, meats and vegetables line the shelves of my basement. I'm constantly looking for a new recipe to feed my fix. Am I sorry I chose this path? Not at all. My family is fed delicious, nutritious foods that don't contain mystery ingredients. I preserve summer's bounty at its peak of freshness, knowing that my family will eat well all year. My friends enjoy the homemade gifts I share with them. Will I stop? Not as long as I'm able to twist a ring on a jar and lift the lid off the canner.
I know there are others just like me. Step forward and admit that you too have this love affair with canning and preserving. Help others learn that canning and preserving are alive and well. Our numbers are growing. Take the leap and join us. We've got canning to do.
You can also find kellyb at Yahoo's Canning2.

Interested in contributing to the Farm Bell blog? Read information here for Farm Bell blog submissions.