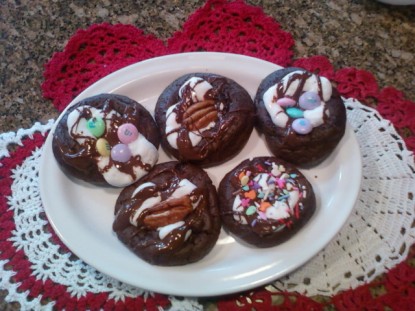 Difficulty: Easy
Cook Time:
12 min
Ingredients
1 3/4 cup flour
3/4 cup cocoa
1 cup sugar
1/2 tsp baking soda
1/2 tsp salt
1 egg
1/2 cup vegetable oil
1 cup milk
2 tsp vanilla
marshmallows
melted chocolate chips
sprinkles, m&ms or nuts
Directions
Preheat oven to 350. Line cookie sheets or I used silicone baking sheets.
Mix flour, sugar, cocoa, baking soda and salt.
Add in egg, vegetable oil, milk and vanilla. Beat till mixed.
Place dough balls on sheets and bake 10 minutes. Take out, add top with marshmallows. Put back in oven for 2 more minutes.
When done, melt chocolate chips in microwave. Stir well with butter knife and swirlie drizzle on top cookies. Decorate with sprinkles, m&m's or nuts. I like salty sweet.
Categories: Cookies & Bars
Submitted by: grannytrace on May 23, 2011