I have no time for all the thyme!
Seriously, my thyme is out of control.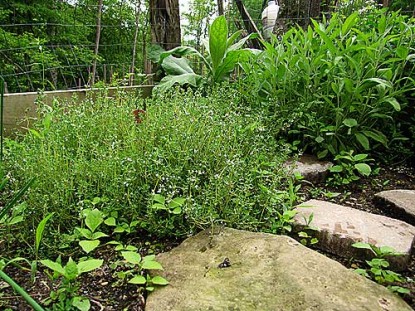 I don't really like thyme. Well, I don't mean that. I like thyme. But I don't like dealing with thyme. I like herbs that have big leaves that are easy to handle. Just dehydrate and crumble as needed. Thyme has little, tiny leaves. Separating out the stems, which I don't like, is a hassle.
I've even thought about quitting growing thyme, just because I don't like dealing with it, but I'm pretty sure if I tried to kill it, it would attack me with a vengeance.
Because I'm almost afraid of this thyme. Though it does look awfully pretty creeping out toward my little path in my herb garden. (And it's not even creeping thyme.)
Did you know the Egyptians used thyme for embalming? Ewww. This does not endear me to thyme. On the other hand, legends tell of drinks made of thyme that allowed people to see fairies. Perhaps I shall fix a drink of thyme, see the fairies, then implore them to use their little, tiny hands to take the leaves off the thyme stems for me! Thyme is native to the Mediterranean, but is popular all over the world now. It has a pungent, aromatic scent, and works well in everything from salads to soups and casseroles to desserts. (Mix it with butter for a delicious and easy gourmet spread.) It's especially good in poultry and pork recipes.
I'd like to continue to grow and dry my own thyme (because, truly, I love it), so if you've got any timely thyme advice for me, hand it over! Any favorite thyme recipes, or ideas for using thyme? (Submit recipes here!)
See all the blog posts in Herbs & Spices.



Do you have a recipe post or kitchen-related story to share on the Farm Bell blog? See Farm Bell Blog Submissions for information and to submit a post.

Want to subscribe to the Farm Bell blog? Go here.