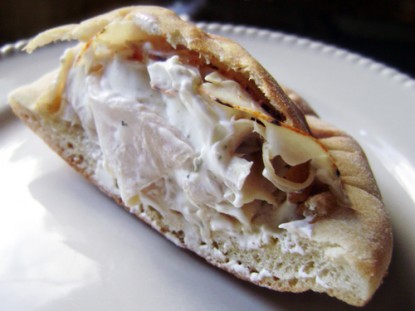 Difficulty: Easy
Servings: 8
Prep Time:
30 min
Cook Time:
5-8 min
Ingredients
2 1/2 cups bread flour (I used Suzanne's Bread Flour recipe)
1 1/2 teaspoons salt
1 Tablespoon sugar
1 packet or 1 scant Tablespoon yeast
2 Tablespoons canola, sunflower or olive oil
1 cup warm water
Directions
Mix 1 cup bread flour, salt, sugar, and yeast together.
Add in oil and water; stir vigorously for 3 minutes.
Add in additional flour in 1/2 cups intervals, stirring after each addition. It will be doughy and grabbing onto the sides of the bowl.
Dump onto a floured board. Knead vigorously for 6 minutes, get that gluten moving!
Divide dough into 8 sections. Roll each section into a ball. Cover with a warm, moist towel and let sit for 20-30 minutes.
While they are resting, preheat the oven to 500 degrees.
Pat each round into a circle and roll out to 3/16″ thick.
Place them in the hot oven, either on a stone or on aluminum foil. I baked them in 2 batches. Flatten out the 2nd batch before putting into oven, you don't want to put it in the oven raised.
Bake for 5-8 minutes–until they are poofed and browned. Mine started poofing after a couple minutes, but I left them in until they were browned a bit.
Let them cool. The puff will flatten out. Cut in half.
Eat them fresh, make pita chips, or fill them with sandwich fixings.
Categories: Appetizers & Snacks, Breads, Tortillas & Pitas, Yeast Breads
Submitted by: cindyp on May 22, 2011