Imagine eating a hotdog without it. Or to not have this on your ham sandwich.
You just can't imagine a life without it, but I haven't read on this forum of anyone who has made their own.
What I'm talking about?? MUSTARD of course!
I don't know how many varieties are out there, I'm only familiar with 3 kinds:
Yellow mustard–the biggest seed and the mildest of all.
Black mustard–the darker and more spicy kind.
And then there is Oriental mustard–tiny little seeds with a HOT spicy flavor.
I live in Saskatchewan, that province of Canada that is called the breadbasket–since "we" grow a lot of grain–but Saskatchewan is big into mustard, also.
So living here it is not hard to get my hands on mustard seed. Once the farmers know, they just drop boxes of it on your doorstep.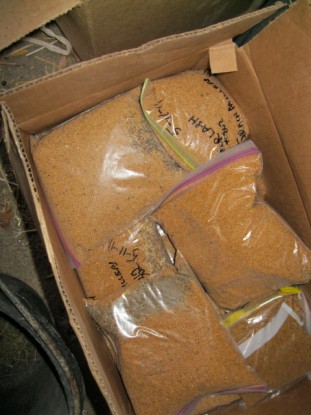 Now my first step is to clean them and get rid of the debris. I only need the clean seed.


When I just started to make mustard, I tried to buy mustard powder in bulk, but unfortunately I couldn't find it. I didn't want to spend the money the stores charged me for the little bags, either, so I make my own mustard powder.
It is so easy, just grind the yellow mustard seeds in a coffee grinder until real fine. If you think the color is too pale, just add some turmeric. It gives color but is flavorless. I don't–I just leave it as it is.
Basically mustard is mustard seeds and fluid–vinegar and water (or juice). You can add dried fruit, nuts, etc..or not.
Today I'm making 2 kinds of mustard, the normal one and a cranberry flavored one. Yes, I'm getting started on my Christmas gifts today.
How to make Mustard from Seeds: Printable
6 table spoons of mustard seed
1/2 cup of mustard powder
1/2 cup water
3 tablespoons of apple cider vinegar
2 teaspoons salt

Grind the whole seeds course. If you use the electric coffee grinder, pulse it just for seconds. I use my mother in law's old coffee grinder.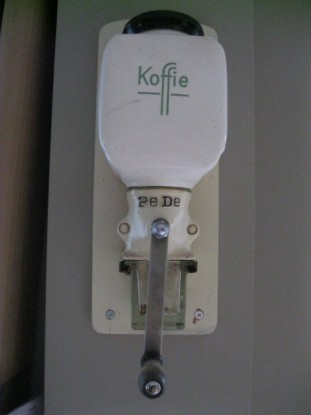 Pour seeds into a bowl. Add salt, mustard powder, and water.
Let stand for 10 minutes, then add vinegar. Mix well.


If this is going to be a gift, fill cute little jars with the prepared mustard.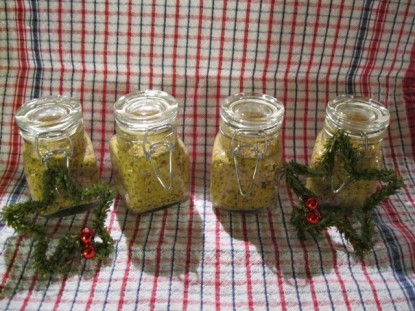 Mustard might taste bitter right after you made it, but the bitterness disappears in a few hours. By storing it for at least 12 hours before eating, you're good.
Now to make it extra Christmas-y, you can add 2 tablespoons of dried cranberries (or 2 tablespoons nuts, berries, honey, etc.) and replace the water for cranberry juice.


Do you have a recipe post or kitchen-related story to share on the Farm Bell blog?
See Farm Bell Blog Submissions for information, the latest blog contributor giveaway, and to submit a post.

Want to subscribe to the Farm Bell blog? Go here.
What can you enter to win this month? Click here.