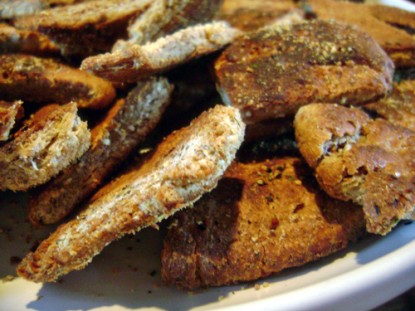 Difficulty: Easy
Servings: as many as you'd like
Prep Time:
10 min
Cook Time:
6-10
Ingredients
Pita bread — homemade or bought
1/4 cup olive oil
Toppings of choice:
Herbs of choice
Sea salt
Parmesan Cheese
Garlic
Cinnamon sugar
Just oil
Directions
Mix oil and herbs and toppings of choice together.
Brush both sides of pita bread with the oil/herb mixture. Cut pita bread into triangles.
Bake in a 400 degree oven for 6-10 minutes (depending on how thick the bread is to start with) until they are crisp.
Categories: Appetizers & Snacks, Yeast Breads
Submitted by: cindyp on May 22, 2011