Growing up I spent a lot of weekends and time with my grandmother. She filled my days with gardening, sewing and baking. She taught me so many things. I love all three. They are my passion.
Funny I never realized how much of a gift she really gave me till recently. I guess you don't till you get older. I also have a dear treasured Aunt, who also has taught me a lot about baking and gardening. My life has been blessed with two very loving women. The biggest gift was their love and time. My baking, sewing and gardening are not perfect but filled with love.
I am now blessed with three of my own granny children–here's 2 of them.
I am now teaching my granny daughter to sew and plant. And all of my granny children love to bake.
We love to bake cookies together. Here is one I like to make with and for them–Chocolate Marshmallow Surprises.
How to make Chocolate Marshmallow Surprises:
1 3/4 cup flour
3/4 cup cocoa
1 cup sugar
1/2 tsp baking soda
1/2 tsp salt
1 egg
1/2 cup vegetable oil
1 cup milk
2 tsp vanilla
marshmallows
melted chocolate chips
sprinkles, m&ms or nuts

Preheat oven to 350. Line cookie sheets or I used silicone baking sheets.

Mix flour, sugar, cocoa, baking soda and salt.

Add in egg, vegetable oil, milk and vanilla. Beat till mixed.

Place dough balls on sheets and bake 10 minutes. Take out, add top with marshmallows. Put back in oven for 2 more minutes.

When done, melt chocolate chips in microwave. Stir well with butter knife and swirlie drizzle on top cookies. Decorate with sprinkles, m&m's or nuts. I like salty sweet.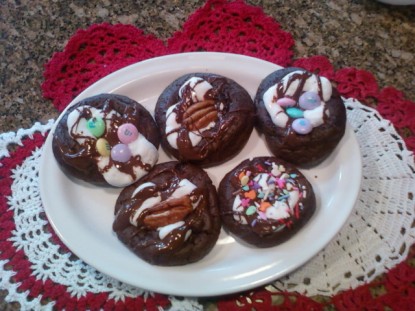 Get the handy print page and save this to your recipe box here:
Chocolate Marshmallow Surprises.


Soon I will have them all in the dirt. Planting and picking beans, tomatoes and cukes. Sharing stories and making memories filled with love..
Chocolate surprise cookies help, too…
GrannyTrace blogs at Granny Trace Scraps and Squares.

Do you have a recipe post or kitchen-related story to share on the Farm Bell blog? See Farm Bell Blog Submissions for information and to submit a post.

Want to subscribe to the Farm Bell blog? Go here.