Last time I got my haircut, I was explaining to my stylist my theory–if I got a giraffe-print purse, I would look taller! She asked if I collect giraffe stuff–I don't. I asked her if she had an animal she liked really well. She said she didn't really, but that she was currently thinking penguins were cute.
A benefit for one of the stylists at the salon came up and I thought, we could make hors d'oeuvre penguins!
How to make Penguin Olive Hors d'oeuvres:
For 50 to 60 penguins you will need:
3 cans jumbo pitted black olives
1 can small pitted black olives
a container of whipped cream cheese or Rondelé cheese
a couple of carrots
pimento strips
tall, frilly toothpicks to hold them together


First, we peeled the carrots and let the cream cheese sit out just a little to soften. We drained the olives. We (I) forgot to buy pimento strips. Oops. That's okay–the weather was nice, so our penguins didn't need scarves anyway. We would have drained them, too.
Jim filled our decorator set with the cream cheese. If you don't have one of those spiffy devices, don't stress; it's okay–just use a baggie with a small hole cut out of the corner, or a pastry bag if you have one. If you go that route, use the long pointier tip, 'cause you'll be inserting that into the olive hole. (Sorry if that sounds nasty when I say "olive hole.")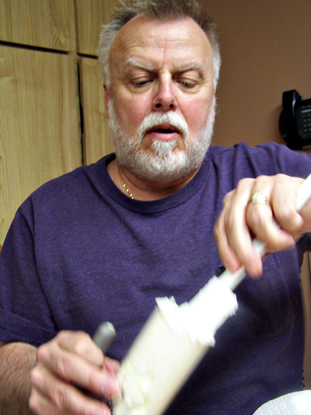 I sliced the carrots into little coin-pieces. Don't make them too thin 'cause these will become the penguin feet. Make them a little thick so the penguins stand up. There is nothing sadder than a downed penguin, ya know.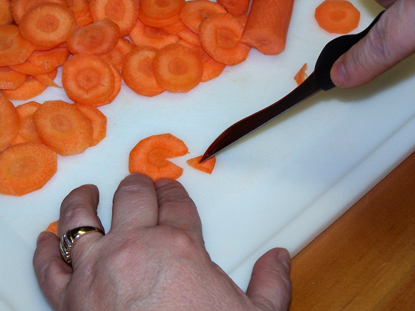 Cut a little notch out of the sliced carrot. That will form the V for the feet, and the little notch becomes a beak.
Then take the jumbo olives and make a slice down each one, from the pit-hole to the other end. This is what becomes the penguin body.
Then take your decorator/pastry bag/baggie, and pipe some of the cheese into the hole. It's even better if you overfill it a little, because then it makes the white chest of the penguin. Jim is an under-filler, so our penguins barely had any tummies. Maybe Jim is over-compensating, not wanting those penguins to have Isles of Belly.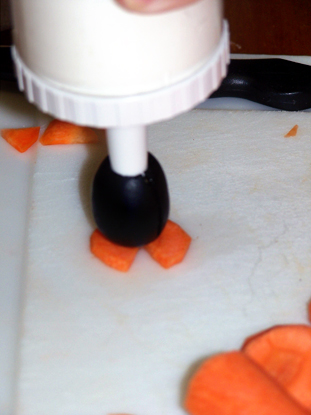 Insert a beak (from the sliced carrot) into a small olive. Put the bigger end in first so the pointy end points out the front, like a beak.
Then, place the body (big olive filled with cheese) on the feet, and place the small olive with the beak on top of the body, then insert a long frilly toothpick into the whole thing from the top to hold it all together. This is also why you want the feet a little thick — so the toothpick has something to grab in to.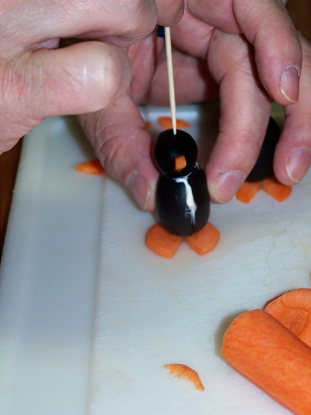 Now you have a little penguin! If you remembered to buy pimentos, you could wrap one around the penguin's neck and it would look quite jaunty! I've always wanted to use the words "quite jaunty" in a sentence. (Be sure to use the British pronunciation when you say that.)
Kinda looks like a little choir, huh?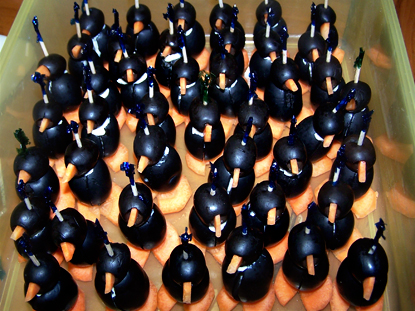 These are a fun little thing to make when you want just a little something different than things other people will make.
At the benefit, we saw a lady put one in a napkin and sneak it into her purse. If she would have just waited a couple days she could have accessed the full instructions!


Get the handy print page and save this to your recipe box here:
Penguin Olive Hors d'oeuvres.

Kathi guest blogs at Granddad's Corner.
Do you have a recipe post or kitchen-related story to share on the Farm Bell blog?
Read information here for Farm Bell blog submissions.
Want to subscribe to the Farm Bell blog? Go here.