It's fall in Pennsylvania. That means leaves, football and tailgating. The last two are usually synonymous with Penn State and Happy Valley but not at our house. Football here means Pittsburgh Panther football at Heinz Field in Pittsburgh.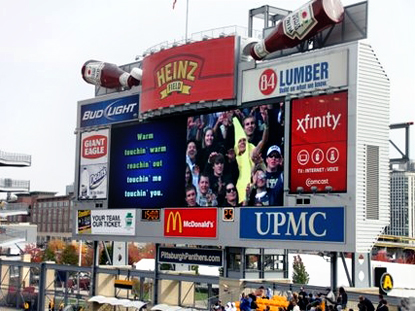 So DD's request was no surprise when she found out we had 6 tickets to the homecoming game. She wanted a tailgating party. Not just any tailgating party, but the BEST tailgating party. You see, this was her first homecoming as an alumni.
I had my assigned duties, now I just needed to complete them. Only two minor problems — our parking pass was in a parking garage so that meant no grills or stoves. They also changed the game time to a 12 o'clock start. That meant my lunch plans were scrapped. I'd also need to prepare everything the day before and then cook it in crockpots. Everything would need to be simple but delicious. Could I pull this off?
Time to look at a brunch menu. Where better to look for ideas than Farm Bell Recipes? I remember CindyP posting an egg casserole for the crockpot.
That would be a good start. Here's the menu:
Bacon
Sausage
Cinnamon Apples
Butter
Whipped Cream Cheese
Mimosas
Poinsettias
The bacon and sausage were browned the day before. I put them in a crockpot at 4 AM to warm for the brunch. I cut apples in large chunks and then tossed with brown sugar, cinnamon and a touch of butter.
They went into another crockpot at 4 AM also. I prepped all the ingredients for the Farmer's Casserole the day before and then prepared it and put it in the crockpot right before we went to bed. Our hotel room smelled heavenly. That's right — I wasn't at home, but mixing everything at a Hampton Inn in Pittsburgh. The Pumpkin Bread and Blueberry Coffee Cake were made the day before and wrapped well.
DH and I got to the parking garage before the girls. To make the day special we had Mimosas and Poinsettias, in crystal champagne flutes courtesy of the thrift store. In keeping with the Pitt theme we had blue and gold plates, cups, napkins and plastic wear. Pumpkins and dried flowers finished the decorations. The girls seemed impressed as did all the other tailgaters that visited our spot. It might seem strange to tailgate in a parking garage but not when you're in the city. Our entire 7 floor garage was filled with happy football fan laughing and enjoying pre-game food.
Laughter, smiles and lots of eating took place at our party.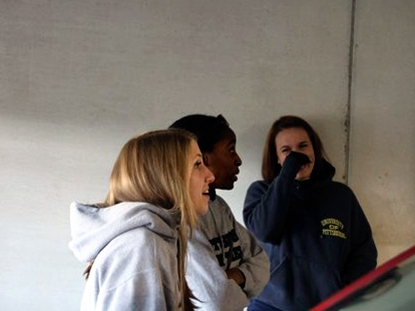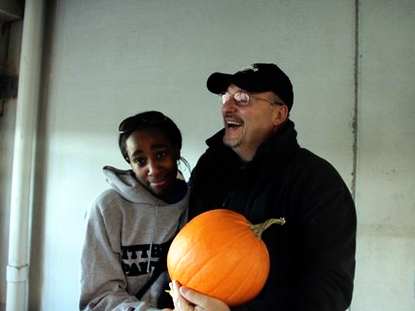 The girls managed to polish off 1 pound of bacon, 2 pounds of sausage links, most of a 9 x 13 sized pan of Blueberry Coffee Cake, most of a 12 serving size of Farmer's Breakfast Casserole as well as 1 loaf of pumpkin bread. The Mimosas and Poinsettias were a hit. Needless to say, there was no champagne left. DH and I got many hugs and thank yous. The girls had full tummies and a winning score for the day.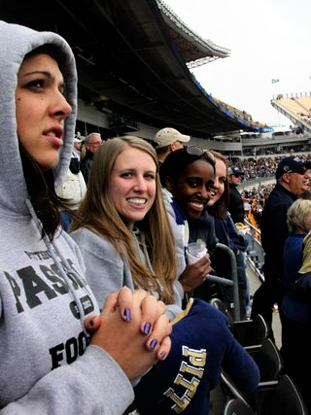 Everyone had a grand time.
Sorry for the lack of food pictures but as the hostess I focused on feeding the ravenous crowd and didn't think about taking any close-ups until we were done eating. Actually, I was stuffing my face just as much as the girls but I thought the first excuse sounded better.
Good recipes and adaptability made for a great day. Hail Pitt!

You can also find Kelly at Yahoo's Canning2.

Interested in contributing a guest post to the Farm Bell blog? Read information here for Farm Bell blog submissions.

Want to subscribe to the Farm Bell blog? Go here.