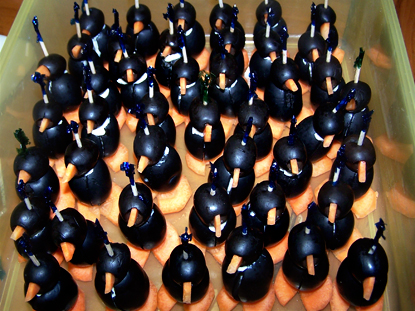 Difficulty: Easy
Servings: 50 to 60
Cook Time:
none
Ingredients
For 50 to 60 penguins you will need:
3 cans jumbo pitted black olives
1 can small pitted black olives
a container of whipped cream cheese or Rondelé cheese
a couple of carrots
pimento strips
tall, frilly toothpicks to hold them together
Directions
First, peel the carrots. Let the cream cheese sit out just a little to soften. Drain the black olives and pimento strips.
Fill a decorator set, pastry bag, or baggie with the cream cheese. If you use the decorator set or pastry bag, use the long, pointier tip. If using a baggie, just snip the corner off (small).
Slice the carrots into coins. Don't make them too thin 'cause these will become the penguin feet. Make them a little thick so the penguins stand up.
Take the carrot slices and cut a little notch out of them. That will form the V for the feet, and the little notch becomes a beak.
Make a slit down the entire side of the jumbo olives, from the pit-hole to the other end. This is what becomes the penguin body.
With the filled decorator/pastry bag/baggie, pipe some of the cheese into the hole. It's even better if you overfill it a little, because then it makes the white chest of the penguin.
Insert a "beak" into a small olive. Put the bigger end in first so the pointy end sticks out the front and looks like a beak.
Place the body (big olive filled with cheese) on the feet (with the white in the front), place the small olive with the beak on top of the body, then insert a long frilly toothpick into the whole thing from the top to hold it all together. This is also why you want the feet a little thick — so the toothpick has something to grab in to.
Wrap a pimento slice around it's "neck".
Now you have a little penguin!
Categories: Appetizers & Snacks, Gourmet, Holiday, Other Condiments, Potluck, Presentation, Special Occasions
Submitted by: kathleennoland on February 23, 2011