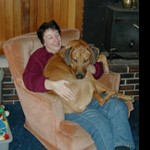 Say hello to Cindy!


Q. What are your favorite things to cook?
My favorites would have to be desserts and breads. Bakery stuff, I suppose. BTW, Suzanne's Cinnamon Roll recipe is fantastic as is her Banana Split in a Jar.
Q. How/when did you learn to cook?
My mother was born in West Virginia and her mother (my grandmother) never let any of the five kids in the kitchen for some reason. Thus, my mother didn't know how to cook when she married my dad – my dad knew how to cook, though, as his mother had taught him so they didn't starve there in the beginning. I think she didn't want that to happen to me, so I was helping in the kitchen by the time I was about 7 years old – about the same time my mom taught me how to sew. By the time I reached high school age, my dad had come down with Parkinson's Disease and my mother worked full-time. As the oldest, I would come home from school, watch the younger brothers and sisters and have dinner ready by the time she got home after work so I learned a lot about cooking during those years.
Q. Tell us about some of your cooking triumphs.
My first complete turkey dinner the Christmas I was a sophomore in high school. It's a long story, but my mom was ordered by her doctor to stay off her foot. I still remember her lying on the sofa in the living-room and giving me directions while I was cooking in the kitchen. It was a good way to learn how to cook a turkey – almost on my own, but not quite.
Q. What was your most memorable cooking tragedy?
There have been enough that I don't know if any are truly memorable!
Q. Describe your kitchen. Do you love it, hate it, and why?
My house was built in 1963 and the kitchen seemed huge when we moved here 25 years ago. We remodeled years ago and put natural gas in the house and I got my gas cook-top, so it's improved over the electric range that was here when we bought the place. But, now it's cramped and doesn't have enough cupboard storage or counter-top space. I don't want to say I hate it because it is functional, but it's not ideal. It looks good but I don't think it was designed for serious cooking. The cabinets were built around a 1960's tiny refrigerator, so I have had to stay with that size refrigerator in the kitchen itself all these years. The pantry consists of two small closets downstairs in the laundry room and I have a commercial freezer and refrigerator down there. But it's a lot of running up and down the stairs to cook and I'm definitely not as young as I was when we moved in here! Also, I've started canning again and there's not enough room to put everything that I need out when I'm doing that! This is about to change, though. We're retiring and moving and I get to design a completely new kitchen and pantry to my liking … this will be fun!
Q. Is your pantry organized and are your kitchen drawers tidy? We need to know.
My pantry is pretty well organized. All my drawers are pretty much tidy with the exception of my one junk drawer and it's a mess!
Q. Do you have any favorite family cooking traditions?
I'd have to say Thanksgiving and Christmas dinners. Even though there are only two of us (and two furry kids), I always spend two days cooking so that we have the traditional meal.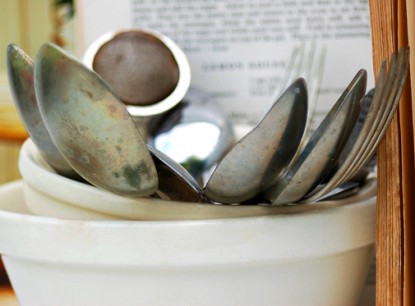 Q. What is the one gadget (or ten) you couldn't do without in your kitchen?
My KitchenAid mixers (both a portable and my stand mixer), my Damascus steel knives, my rice cooker, and my Cuisinart pots and pans that I bought 20 some years ago.
Q. If you had to take one food to a deserted island, what would it be?
Bread!
Q. What is your go-to comfort food?
Quesadillas or Cinnamon Rolls (with raisins and lots of icing)!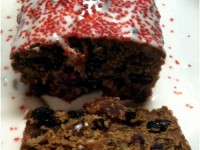 Find all of Cindy's recipes here.



Cindy blogs at Spiritway Press.

Do you have a recipe post or kitchen-related story to share on the Farm Bell blog?
Read information here for Farm Bell blog submissions.

Want to subscribe to the Farm Bell blog? Go here.