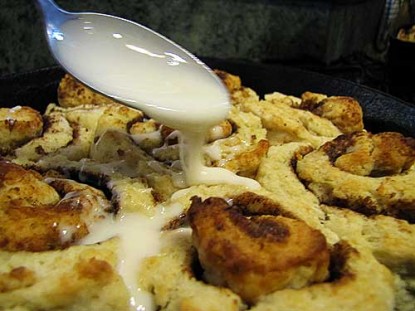 Difficulty: Easy
Servings: 8
Prep Time:
15 minutes
Cook Time:
20-25 minutes
Ingredients
3 cups all-purpose flour
1 tablespoon baking powder
1/3 cup sugar
1/2 teaspoon cream of tartar
1/2 teaspoon salt
3/4 cup lard or shortening
3/4 cup milk
Filling & Icing
Directions
Note: To use a baking mix, replace first 5 ingredients with 3 cups baking mix, adding a tablespoon of sugar.
Place first 5 ingredients (or 3 cups of baking mix) in a large bowl and work in the lard or shortening with a pastry cutter. Add the milk. Knead the dough lightly, adding a little extra flour if needed to keep from sticking, or a little extra milk if it's too dry. (You don't want a real wet dough, though, so be careful.) On a floured surface, roll dough into a rectangle, about 14 x 9. Prepare the filling.
Filling:
3 tablespoons butter, melted
1/2 cup brown sugar
2 teaspoons cinnamon
1/2 teaspoon ground cloves
I add the cloves for more spicy flavor, but you could leave that out if you don't like it. Brush dough with melted butter. Combine brown sugar, cinnamon, and cloves (if using). Spread over the buttered dough, taking care to get right up to the edges. Slice into strips. Cut strips about 1 1/2 inches to 2 inches wide. (I make 8 strips from a 14-inch long piece of dough.) Roll each strip of dough up and seal the seams. When rolling the strips, take the end where you start rolling and roll it out away from the rest of the strip a bit, which makes it stick out from the top. Then I roll up the rest of the strip evenly. This makes a nice fat cinnamon bun with the center sticking up.
Place rolls in a large greased pan. Bake in a preheated 450-degree oven for approximately 20-25 minutes.
Powdered Sugar Icing:
Combine 1 cup sifted powdered sugar, 1/2 teaspoon vanilla, and enough milk (two to four teaspoons) for drizzling consistency.
Categories: Biscuits, Breads, Breakfast, Kid-Friendly
Submitted by: suzanne-mcminn on February 23, 2011