OK, so I now have this fabulously large kitchen. I have a pantry full of home-canned goods and I am slap in the middle of winter. This is part of last year's canning exploits. Some has been eaten, some is elsewhere. Not too shabby for a half-season garden!
Well, winter down here, although cold this year, is an entirely different animal than those where I grew up. So that means I have a few more options than I am used to. A few days ago, Tripp's sister showed up with a garbage sack (yes, the black plastic sized) full of mustard greens. This picture was taken after the chickens had a share and I made the following recipe.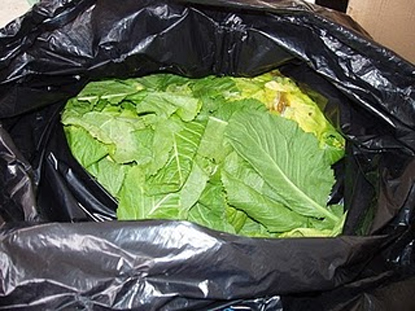 What the heck!?! I have never and I mean never cooked with them before. The fact of the matter is, in my world mustard is a condiment and a chemical weapon, not a salad. Right? Nope.
Enter epicurious.com. They have everything you could want to make, and a lot of things that you didn't know you wanted to make but are sure to do so in the near future. I have signed up for their recipe a day app and every morning a new recipe is right there on my iGoogle page. Yesterday's was: Raw Mustard Greens Salad with Gruyère and Anchovy Croutons. What, really? I love you Epicurious, you get me you really, really get me.
Raw Mustard Greens Salad with Gruyere & Anchovy Croutons
from Epicurious.com
5 anchovy fillets, finely chopped
3 garlic cloves, pressed
1/2 cup extra-virgin olive oil
3 cups 3/4-inch cubes crustless country bread
1 cup (packed) coarsely grated Gruyère cheese (about 4 ounces), divided
Nonstick vegetable oil spray
1 bunch mustard greens (about 12 ounces), center rib and stem cut from each leaf, leaves cut crosswise into 1/2-inch-wide strips
5 teaspoons (or more) fresh lemon juice
Preheat oven to 375°F. Combine anchovies and garlic in small bowl. Gradually whisk in oil. Place bread cubes in medium bowl. Drizzle 2 tablespoons anchovy oil over, tossing to coat. Sprinkle bread with salt, pepper, and half of cheese; toss to coat.
Spray rimmed baking sheet with nonstick spray. Scatter bread on sheet. Bake croutons until crisp and golden, stirring occasionally, about 20 minutes. Set aside.
Measure 8 cups (loosely packed) mustard greens and place in large bowl (reserve any remaining greens for another use). Add croutons and remaining cheese to bowl. Whisk 5 teaspoons lemon juice into remaining anchovy oil; season dressing with salt, pepper, and more lemon juice, if desired. Add dressing to salad; toss to coat.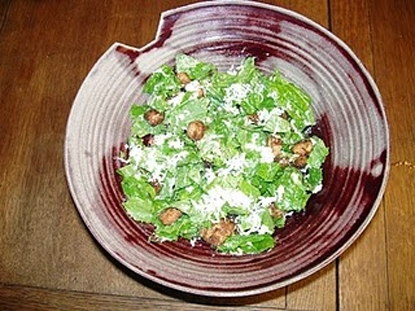 Now I usually have anchovies in the cupboard, but somebody around here ate them as a snack. I usually have anchovy paste in the cupboard, too, but Southern summers are relentlessly cruel to a pantry and hot, humid anchovy paste smells…well yucky. Also, my family doesn't love the Swiss style cheese as much as I do, so Gruyere isn't always in my fridge. So I happily trotted off to the grocery to get the two missing items.
Did I mention that I now live in Small-Town-Georgia? I had no expectations on the Gruyere, I was already planning on using Swiss. But I did go to the aisle where the tuna and the canned salmon are kept fully expecting to find anchovies. No dice. I found all manner of potted meats, sundry Lil' Smokies and sardines. Eight varieties of sardines. Huh? I asked the butcher lady to help me find the anchovies. She looked perplexed for a moment and then lead me triumphantly to the canned artichoke hearts. "Is this what you were looking for?" she asked, obviously very pleased that she had remembered where the anchovies were. "Yes, thank you." I replied. Who am I to crush a butcher's triumph? Sardines would have to do.
I followed the recipe almost to a T. I forgot the lemon juice which is a shame because I have a bright, beautiful dish of lemons sitting on the counter wanting for a use. But it was really good. My 11 year-old nephew and my nine year-old niece ate up. So did my daughter, Ella! Hooray, Ella ate! She's not picky, she just likes milk and yogurt. Oh and ketchup. That's another post some other time…


Get the handy print page and save this to your recipe box here:
Raw Mustard Greens Salad with Gruyere & Anchovy Croutons.

Jessica blogs at A Day in Earnest.


Do you have a recipe post or kitchen-related story to share on the Farm Bell blog?
Read information here for Farm Bell blog submissions.

Want to subscribe to the Farm Bell blog? Go here.