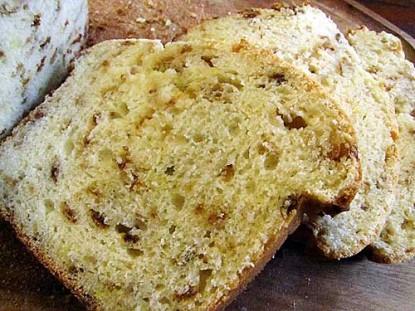 Difficulty: Easy
Servings: 12
Prep Time:
10 minutes
Cook Time:
1 hour
Ingredients
3 cups all-purpose flour
1 tablespoon baking powder
1/2 teaspoon salt
1 cup sugar
1/4 teaspoon baking soda
1 egg
1 2/3 cups plain yogurt
2/3 cup milk
1/4 cup vegetable oil
1 cup granola
1 cup chopped dried fruit (optional)
Directions
Note: To use my Quick Mix or another baking mix, replace the first three ingredients with 3 cups baking mix. Instead of 1 cup of sugar, use 3/4 cup sugar. Add remaining ingredients as is.
Second note: If you want this to be less of a sweet bread, cut the sugar in half–or more.
In a mixing bowl, combine flour, baking powder, and salt, or 3 cups baking mix. Add sugar and baking soda. Add egg, yogurt, milk, and oil. Stir just enough to combine. You might need more or less milk depending on the thickness of your yogurt. You should have a dough that can be spooned out of the bowl into the bread pan–more the consistency of drop biscuits than of rolled biscuits.
Gently stir in granola and dried fruit, if using. If your granola already has dried fruit in it, you probably don't need to add more. Use a large greased loaf pan, such as a 9 x 5. If using smaller pans, divide into two or more pans. These make great mini-loaves!
Bake at 350-degrees. In one large loaf pan, it will take about an hour. Keep an eye on it. Reduce the time for smaller pans accordingly. Smaller loaf pans will be done in about 45 minutes, mini-loaf pans in about 20-30 minutes, depending on your mini-loaf size.
Cool completely before slicing. Wrap tightly to store.
Submitted by: suzanne-mcminn on January 25, 2011