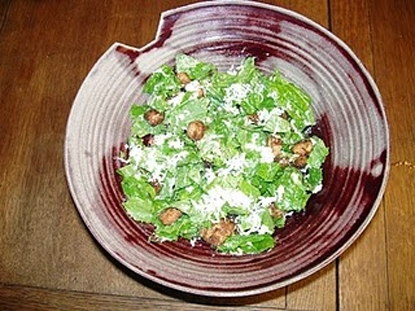 Epicurious.com
. Because of availability of ingredients, I substituted sardines for the anchovies and Swiss cheese for the Gruyère cheese.
Difficulty: Easy
Servings: 6
Prep Time:
20 min
Cook Time:
20 min
Ingredients
5 anchovy fillets, finely chopped
3 garlic cloves, pressed
1/2 cup extra-virgin olive oil
3 cups 3/4-inch cubes crust-less country bread
1 cup (packed) coarsely grated Gruyère cheese (about 4 ounces), divided
Nonstick vegetable oil spray
1 bunch mustard greens (about 12 ounces), center rib and stem cut from each leaf, leaves cut crosswise into 1/2-inch-wide strips
5 teaspoons (or more) fresh lemon juice
Directions
Preheat oven to 375°F.
Combine anchovies and garlic in small bowl. Gradually whisk in oil. Place bread cubes in medium bowl. Drizzle 2 tablespoons anchovy oil over, tossing to coat. Sprinkle bread with salt, pepper, and half of cheese; toss to coat.
Spray rimmed baking sheet with nonstick spray. Scatter bread on sheet. Bake croutons until crisp and golden, stirring occasionally, about 20 minutes. Set aside.
Measure 8 cups (loosely packed) mustard greens and place in large bowl (reserve any remaining greens for another use). Add croutons and remaining cheese to bowl. Whisk 5 teaspoons lemon juice into remaining anchovy oil; season dressing with salt, pepper, and more lemon juice, if desired. Add dressing to salad; toss to coat.
Categories: Lettuce & Greens, Salads
Submitted by: faboo42 on January 25, 2011