Another strawberry dessert, from my mother–getting in practice for next year's harvest!
This strawberry cake truly is the most delicious and moist strawberry cake I have ever eaten! This is not exactly a "scratch" cake because you do use a cake mix, but you add other ingredients and don't use the recipe on the box–I have a few cake recipes like that.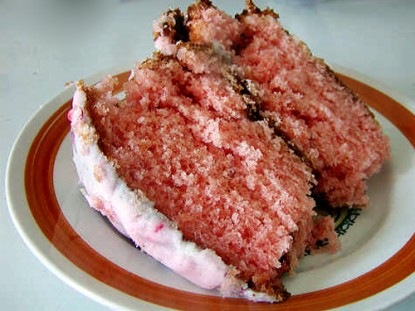 How to make Strawberry Cake:
1 white cake mix, ignore directions on box
1 Tablespoon flour
1 package strawberry jelly powder (Jell-O)
3/4 cup vegetable oil
1/2 cup water
1/2 cup chopped strawberries
4 eggs
Mix the cake mix, flour, jelly powder, vegetable oil, water and strawberries together thoroughly. Add eggs, one at a time, mixing well after each one.
Divide mix between three greased round cake pans or bake in one long 9″ x 12″ greased pan. Bake at 350F for 30 minutes.
Add frosting when completely cooled.
How to make Strawberry Frosting:
1/4 cup soft butter
3 1/2 cups powdered sugar
1/2 chopped strawberries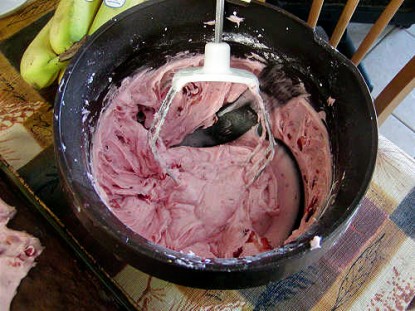 Put butter, sugar and strawberries in bowl first. Mix together well. Slowly add water a tiny bit at a time, until desired consistency is reached. If the icing is too thin add a bit more sugar.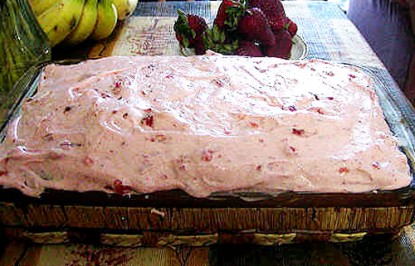 Get the handy print page and save this to your recipe box here:
Strawberry Cake
Strawberry Frosting.

Sheryl blogs at Providence Acres.

Do you have a recipe post or kitchen-related story to share on the Farm Bell blog?
Read information here for Farm Bell blog submissions.

Want to subscribe to the Farm Bell blog? Go here.