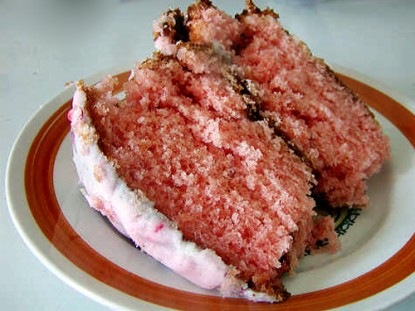 Difficulty: Easy
Servings: 1 (9x13) cake or 3 round
Cook Time:
30 min
Ingredients
1 white cake mix, ignore directions on box
1 Tablespoon flour
1 package strawberry jelly powder (Jell-O)
3/4 cup vegetable oil
1/2 cup water
1/2 cup chopped strawberries
4 eggs
Directions
Mix the cake mix, flour, jelly powder, vegetable oil, water and strawberries together thoroughly. Add eggs, one at a time, mixing well after each one.
Divide mix between three greased round cake pans or bake in one long 9″ x 13″ greased pan. Bake at 350F for 30 minutes.
Add frosting when completely cooled. Strawberry Frosting recipe here.
Categories: Cakes
Submitted by: runningtrails on February 12, 2011