I'm in love with a KitchenAid strainer. I'm guessing not many people are in love with a kitchen appliance, but since I borrowed one from a friend several years ago, well, it has become a vital NEED. My husband heard how I needed one many times, and finally I found one on sale. She (yes, my appliances are women) and I have had many dear times together, and my husband has even developed a tremendous appreciation for her.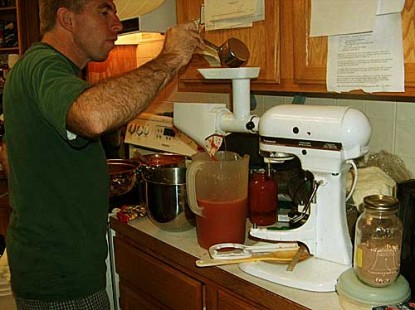 This is the greatest timesaver I've ever purchased when it comes to food preserving.
In my childhood, I didn't like my mother's applesauce. I realize that is a peculiar thing to admit. However, I wouldn't even eat it at all! The texture just wasn't tolerable for me. (Yes, super texture sensitive.) One day a few years ago, I visited my friend who was tending my young son and she was making applesauce. I was totally stunned. Making and processing applesauce with an extra kiddo around to tend? She had three young ones of her own to deal with, too. Then came the moment that changed my life. I believe the very angels in heaven sung as she showed it to me. She put the cooked applesauce mush into the top, pushed it through, and there was the most beautiful smooth clean sauce in the pot below. It was easy, gorgeous, and didn't require a bunch of arm strength since it is electric.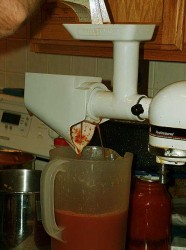 Once I got mine and was using it, I couldn't help but tell friends about it. It changed my life! Of course pretty soon I was loaning mine out to help all my friends with grapes, tomatoes, applesauce, raspberries, pumpkin puree… They each have seen the majesty of this incredible time and labor saver. One area that I really appreciate it for is tomatoes. I would normally have to peel and work with about 100+ quart jars of tomatoes. It was horrible. I loved the tomatoes, but the work to take all of those peels off! Furthermore, I've become neurologically permanently disabled (kinda like MS but just on motor and sensory functions) and my hands don't do fine motor things well. This attachment has actually given me back the ability to preserve things that I couldn't easily do anymore. Now, I chop them up, seed-save, and throw the tomatoes in a pot. Once to a good boil, they will go through the food strainer. Voila! I can focus on preserving via BWB for time consumption rather than just the prep. My efficiency has really improved with an electric strainer. A dear woman that I frequently can with has some shoulder problems. It has made things easier for her as well (yes, she has one now, too). An internet friend, David, even pointed out saving the peels and seeds, dehydrating, and powdering that "remnant" to use in stocks etc. See, now the need for the next item–a dehydrator!
I don't know how many have ever thought of getting a strainer like that, but just weren't sure. Well, I must confess, I've become part of a group who are "enablers." We find things that are sooo helpful in the kitchen and tell others. They learn about it and then they tell others. I think the company should consider giving me and a few others a kick-back since almost all of these friends now own one of their own after borrowing one. I'm much too frugal by nature (you know, frugal, the classy word for tightwad). I know on our tight budget that it has paid for itself many many times over or I wouldn't tell you about it. My friends can vouch on that.
Puree ready for further processing. Beautiful texture thanks to the strainer!

If you have a KitchenAid mixer and you do a lot of straining, peeling, etc, please think about this attachment as an option! If you are struggling with your hands to cut off skins from apples etc, do realize that there are great tools out there to serve us well who are handicapped, disabled, or just limited. I can't begin to tell you how happy I am to have parts of my life stay despite the disease.
In love with a strainer? Yup, and I'm so glad that we were introduced! We will have a long life together making lots of delicious food for friends and family.
You can also find Moopsee at Yahoo's Canning2.

Interested in contributing a guest post to the Farm Bell blog? Read information here for Farm Bell blog submissions.

Want to subscribe to the Farm Bell blog? Go here.

Note from Suzanne: I found the KitchenAid strainer attachment here
.