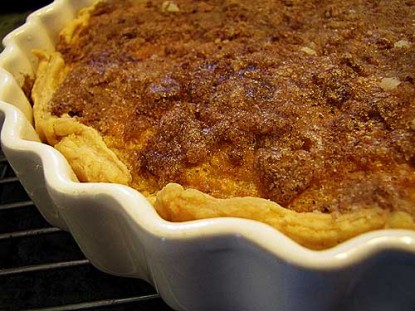 Difficulty: Easy
Servings: 8
Prep Time:
10 minutes
Cook Time:
40 minutes
Ingredients
pastry for a single-crust pie
3 eggs
3/4 cup sugar
2 tablespoons cornmeal
1 tablespoon apple cider vinegar
1/4 teaspoon salt
7 tablespoons butter, melted
Directions
Roll out the pastry. Line a greased 8-inch tart pan with the pastry. Stick it on the lower shelf of your oven at 350-degrees for about 30 minutes. The custard will be just about set. Remove from oven to add the topping.
TOPPING:
1/3 cup sugar
1 tablespoon butter, room temperature
1/2 teaspoon cinnamon
1/4 teaspoon nutmeg
Use a pastry blender, or just a fork, to cut the butter into the sugar and spices. Sprinkle the topping over the custard and return the tart to the oven for about 10 more minutes. Cool on a wire rack.
Categories: Budget, Desserts, Eggs, Old-Fashioned, Tarts
Submitted by: suzanne-mcminn on February 12, 2011