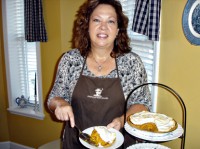 Say hello to Jackie from Florida!
Food interests: Anything but avocado.
Hobbies: Cooking, gardening, writing about cooking and gardening.


Q. What are your favorite things to cook?
My style of cooking is definitely simple honest down-home fare. I got on a gourmet kick for a few years, but I've come full circle to the style of cooking that my Granny did. Fine dining and gourmet food is wonderful, but most folks savor a good home cooked meal. That's what I do. I cook A LOT of good home cooked meals. Roasts, of any kind, are a favorite of mine because they smell divine for the long period of time they are cooking. Showcasing the best of seasonal fresh produce is also a favorite. I garden and plan my menu around my harvest in true farm to table fashion.
Q. How/when did you learn to cook?
I have been cooking family meals since I was 12 years old. Being the eldest of three, that job fell to me. In the beginning, cooking was a chore. Somewhere along the way, it became a passion as it remains today. Cooking is a way of nurturing as well as a creative outlet. Good food and good memories go hand in hand. Some of the best things we have to offer folks is a special meal or dish prepared with them in mind. That's what my Granny did, that's what she taught me to do. She was truly my inspiration for cooking. My mother never liked to cook until the last few years of her life. But, Mama liked nothing better than for me to cook for her. And I loved doing it for her as much as she loved eating it.
The first cookbook that I used was The Betty Furness Westinghouse Cookbook published by Simon and Schuster in 1954 which was a gift from my father to my mother. Since my mother didn't enjoy cooking and my grandmother lived a distance away, this book became my reference for recipes and cooking techniques. I used that cookbook right up until I left home. Some of the recipes stayed with me in my mind, but I always wanted the cookbook. Certainly, I could have bought another copy from amazon.com, but I wanted the cookbook that had the food stains from my dishes on the pages. When my daughter got married in 2002, my mother presented me with a gift. The cookbook. The one that I had relied on for cooking lessons for so many years. It was quite tattered. In fact both front and back cover was torn off. But it I didn't care about that. The cookbook that I had loved was now MY cookbook. I asked my mother to write a note in the cookbook and this is what she said, "To the mother of the bride. I hope you enjoy. Love, Mom. 10/2/02. I am a collector of cookbooks and this one is a superstar among my collection. I keep it in a plastic ziplock bag to try to protect it as much as possible.
Q. Tell us about some of your cooking triumphs.
My idea of a cooking triumph has changed over the years. A few years back, my husband and I would put on 5 course wine paring dinners for several couples at the time. It was quite a production. I would plan the menu and do the wine parings. My husband is the greatest (amateur) prep chef in the world and he would do whatever I needed him to do in the way of chopping, peeling, cleaning, etc. We would set the tables with linen clothes, china and crystal. We did all the shopping, food preparation, serving and cleaning ourselves. The food was delicious and the presentation was awesome. People just went on and on about how good the food was and how lovely everything was. After it was over, we just about had to go to bed for a week. We were absolutely exhausted. We accomplished our goal of providing everyone a good time and great food and wine, but at what cost?
Holidays are a big deal around our house. From table settings to the food to the presentation, everything is given special attention. I want to make holidays special and that is accomplished, always. I'm proud that we have home cooked meals for each holiday. That's not for everyone, but it's important to my family and it's important to me. But, once again, there's a lot of work and stress that goes into creating a special occasion meal. I still consider each and every special occasion meal a triumph, simply because our family has gathered together for a celebration that includes good food.
These days, my idea of a cooking triumph centers around simple meals that are nourishing and delicious. My husband and I are empty-nesters….kind of. Our youngest son is a Junior in college, so he's gone for most of the year. Recently, my husband and I sat down to a simple supper of roasted chicken thighs, hot water cornbread and sliced oranges from our backyard tree. The meal was delicious, stress free, nutritious and fresh. I felt so good about that simple little meal. We sat there together and enjoyed each others company while we ate our meal in our home. That was triumphant.
Q. What was your most memorable cooking tragedy?
When I was 10 or 11 years old, I wanted to make some oatmeal cookies for the Betty Furness cookbook. Shortening was one of the ingredients called for. I searched around the kitchen and found out that we were out of shortening. I knew that shortening was a fat. I also knew that bacon drippings were a fat. We had plenty of those. In my 10 or 11 year old mind, that seemed like a fine substitution. So, I made the oatmeal cookies with bacon drippings instead of shortening. I would recommend that if you want to make oatmeal cookies and have no shortening, go to the store. Don't use bacon drippings.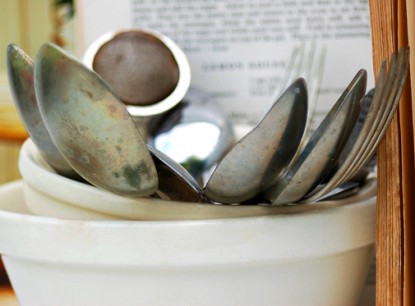 Q. Describe your kitchen. Do you love it, hate it, and why?
I'm in love with my kitchen. It was remodeled a couple of years ago. I would give anything for my grandmother to be able to cook one meal with me in my fine kitchen with my matching pots and pans. She never had either of those. I have lots of counter space which makes cooking so much more enjoyable. The best part is having more than one oven. I complained about that for years. It was so hard to turn out all those big meals with just one oven. I am truly thankful for having such a nice place to cook.
Q. Is your pantry organized and are your kitchen drawers tidy? We need to know.
I have things organized in both places. The exception is my drawers for all my plastic storage containers. My 20 month old twin grandchildren rearrange those drawers every time they are here. And that's just fine with me.
Q. Do you have any favorite family cooking traditions?
Oh my goodness gracious. I'm all about family cooking traditions. I mentioned early that we celebrate each and every holiday and special occasion at my house. The menu for holidays is always turkey for Thanksgiving, prime rib for Christmas and ham for Easter. Christmas morning breakfast is a special casserole and homemade cinnamon rolls. Everyone gets to choose their birthday meal. When we have house guests for Thanksgiving, breakfast on Thanksgiving morning is a waffle buffet with a waffle batter that is made the night before and all sorts of fresh toppings and compound butters for the waffles. Everyone gets to help themselves and make their own waffles whenever they are ready for them. That lets everyone have a good hearty breakfast but frees me up to focus on Thanksgiving dinner.
Q. What is the one gadget (or ten) you couldn't do without in your kitchen?
Whisks, immersion blender, stand mixer, good knives (they aren't gadgets but essentials), cutting boards, and Silpat. My new love is my immersion blender. Anyone who likes to puree anything (soups, sauces, etc.) might want to look at an immersion blender. They are so much easier than trying to transfer hot liquids to a blender or food processor. I use mine an awful lot. LOVE IT!
Q. If you had to take one food to a deserted island, what would it be?
I'm making an assumption the deserted island is in a tropical climate. Under that assumption, I would take okra. I love it and it's easy to grow and would be a sustainable food source. I hope I could eat enough coconuts and catch enough crabs to keep from perishing till the okra crop came in!
Q. What is your go-to comfort food?
I don't have just one dish that I consider my go-to comfort food. It is seasonal with me. Fall and winter, I love greens cooked with ham hocks. Summer is anything blackberry and southern peas. Spring is whatever we have coming out of the garden. However, I do love grits all year long.
Some of Jackie's recipes on Farm Bell Recipes include:
Find all of Jackie's recipes and blogs posts here.



Jackie blogs at Syrup and Biscuits.

Do you have a recipe post or kitchen-related story to share on the Farm Bell blog? See Farm Bell Blog Submissions for information and to submit a post.

Want to subscribe to the Farm Bell blog? Go here.